April 21st, 2009 | Published in Pirates in the Press
The Westmount Examiner
April 21 2009
The Most Popular Sport You've Never Played – Yes, Cricket Actually Exists in Montreal
Noah Sidel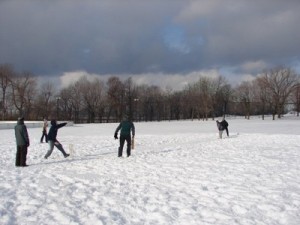 It's played by millions all over the world, Canada has an internationally-recognized travelling squad, and our country regularly hosts teams from around the world in competition play.
In our own community, however, this sport has very little going for it – at least in terms of a public image.
The sport? Cricket.
The closest I've ever come to seeing a live game of cricket is watching some kids knock around a bat and ball in one of many parks in the Côte des Neiges area. On the NDG side of the West End, however, cricket has about as much of a following as ballroom dancing.
But that's not to say it's not a great sport – even if it's a little tough to grasp the rules.
Scotsman-become-Montrealer Angus Bell is trying to change all that.
Bell, author "Batting on the Bosphorus: A Liquor-Fueled Cricket Tour Through Eastern Europe" has started up a local cricket club called the Pirates of the St. Lawrence, and is pushing the game hard on the local sports scene.
Over the course of this summer, we're going to delve deep into Bell's cricket world. But for a start, we had a quick chat about playing cricket in Montreal and trying to grow the game…
Off-Sidel: What's your long term goal with bringing cricket to Montrealers?
Bell: Cricket was the first national sport of Canada, from 1867, and is now the second most popular sport in the world. One billion Indian fans can't be wrong, can they? We'd like to see cricket become the premier bat-ball game in Quebec again. It is growing at a ferocious pace, with thousands of schoolkids now learning the game. These kids are going to be pushing for spots in the World Cup in a few years.
Off-Sidel: What potential do you think cricket has for growth in Montreal?
Bell: I've been to 43 countries, and I've never seen a place so open to new things, or new sports, as Quebec. The hand-eye co-ordination skills of people here is far higher than in many traditional cricket-playing countries, thanks to years of honing softball skills in the garden. With cricket, people can take those skills somewhere. There's a lot of hard work ahead, but by opening the game up to the mainstream, making it visible, accessible, and encouraging development, this place is going to be a hotbed of talent.
Off-Sidel: What's the most fun part of the game for the uninitiated?
Bell: Apart from post-match beer? Cricket has so many sides to it. Most other sports are one-dimensional. In cricket, you get to hit, run, catch, dive, throw, bowl, keep wicket, make decisions, accumulate personal scores, as well enjoy the social aspects of the game. And within those categories, there is huge variation. There's something for everyone. Unlike baseball, you get to hit the ball anywhere, 360 degrees around, and face as many balls as you're capable of. What's not to like?
Off-Sidel: What's the idea behind the Pirates of the St. Lawrence?
Bell: The Pirates of the St Lawrence formed in the wake of the 2007 World Cup and is now the fastest-growing cricket club in North America, and the most multi-cultural cricket club in the world. We have men and women of 40 nationalities – everything from Austrian to Parsi Zoroastrian.
Many of us were forced to give up the game when we moved here. Cricket is all too often an exclusive ex-pat game in North America, with poor facilities and organization, a total absence of fun, inclusion, youth, or development.
Most teams have one nationality, which is bizarre for such a multi-cultural country. We're changing all that. W
Off-Sidel: Why play cricket in the first place?
Bell: Cricket is a sport that stopped India and Pakistan going to nuclear war. It is a sport played by kings, presidents, Hugh Grant, Dr. House, and Russell Crowe. It offers so much physically, socially, and mentally.
Rest assured, at the end of the world, there will be people playing cricket. Why not try it out for yourself?
Click HERE to see the full article…