January 27th, 2012 | Published in 2012, Scorecards and Match Reports
Pirates of the St Lawrence Snow Cricket World Cup 2012
Saturday 21 January 2012
By our Irish correspondent Samuel Mulligan
Photo by Robert Ganz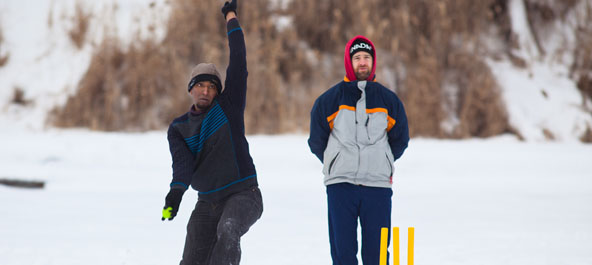 The brave men and women of Pirates of the St Lawrence descended on McGill University's McTavish Reservoir to compete in the fifth edition of the annual Snow Cricket World Cup. Four teams contested this year's competition, with England sealing victory in a dramatic three-way bowl-out.
Rutherford Park, site of the McTavish underground reservoir, provided the picturesque setting for the 2012 Snow Cricket World Cup. Despite temperatures below -15°C, forty-five hardy souls from six continents arrived bright and early to lay two plywood pitches across the ankle-deep snow.
Four sides – England, Canada, Australia-New Zealand, and the Celtic-Asian Bloc Alliance – battled it out for snow supremacy. While most favoured ski gear and thermal underwear, Prashant Bhawalkar showed he was made of sterner stuff. The snow cricket debutant stayed true to tradition by togging out in whites, one thin pair of socks and trainers.
The action got underway in the morning with two enticing ties. While England and Australia-New Zealand contested the 'Ice Ashes', Canada locked horns with the Celtic-Asian Bloc Alliance.
Australia-New Zealand, ably led by Richard Horne, caught the old enemy cold. Despite a valiant effort by England, under the captaincy of Tom Wisden, it was the Antipodeans who clinched the ice urn.
On the other field, Canada overcame the Celtic-Asian Bloc Alliance in a keenly contested tussle. Despite a quick-fire 22 not out from the Alliance's snow cricket veteran Angus Bell, the host nation pulled off a dramatic come-from-behind win. Canada's captain, Matthew Legault, led from the front to seal a last over victory over Sam Mulligan's Celtic-Asian Tigers.
In the second set of fixtures England bounced back to beat Canada, while Australia-New Zealand consigned the Tigers to their second last-over defeat.
After a break for Australian pies and hot soup courtesy of Tourtière Australienne, the four sides braved the conditions once more. The final games saw the Celtic-Asian Bloc Alliance secure the wooden spoon thanks to a comprehensive defeat at the hands of the English. In the other fixture, Canada delivered their second impressive performance of the day to beat Australia-New Zealand.
The victory meant Canada, England and Australia-New Zealand finished the day with two wins apiece. With the temperature falling by the minute, the three sides took to the field to contest a bowl-out to decide the winner.
With an unguarded set of stumps to aim at, each member of the three teams was called upon to bowl one ball. After Australia-New Zealand were eliminated, Canada and England duked it out for this year's title. In the end, Tom Wisden's England held their nerve and were crowned the 2012 Snow Cricket World Cup champions.