July 8th, 2012 | Published in 2012, Scorecards and Match Reports
Pirates of the St Lawrence versus Sukhdeo's Select: A Guyanese XI
Saturday 7 July 2012
Tez Says…
Photo by Kat Roche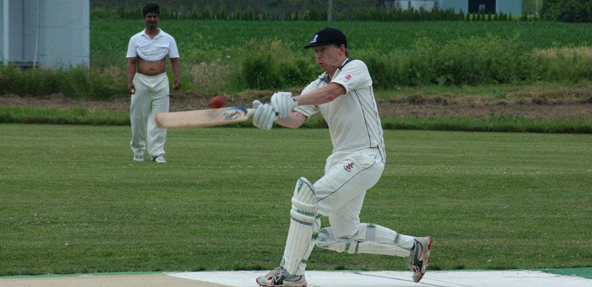 Centurian Phil Roche and wicketkeeper Eddie Palmer combined for an unbeaten stand of 98 as they steered Pirates of St Lawrence to a comfortable victory over Sukhedo's Select: A Guyanese XI.
After being set a target of 228 (off 12 wickets) from 41 overs, the Pirates completed an 11-wicket triumph thanks to unbeaten knocks of 104 and 69 from Roche and Palmer, while Tez Milot, in front of his mum, was 28 not out as he occupied one end to help free-hitting Roche reach his century.
Opener Palmer was as reliable with the bat as he was with the gloves until a groin injury forced him back to the pavilion, while Roche produced a brutal display of stroke-making that was as natural as the wildlife that greeted the home side when they arrived to set up.
The Candy Fields has a deserved reputation as the finest cricket ground in Quebec and it is proving just as popular with the local animals.
Insects have always been a feature, but snakes and field mice have recently been added to the collection of creatures inhabiting the groundsman's hut – seven serpents this week and a pregnant mouse in the mat, huddled in a nest of pad filling – while the wicket fast resembles a Jackson Pollock produced with bird droppings.
"It's not ideal and we've been putting our heads together to find a way to prevent the wicket from turning into a frigging bird dunnie," said Dave Blechynden, one of two Aussie engineers in the Pirates XI.
"Someone suggested a scarecrow but that's just too bloody simple. My job is all about finding solutions and what we need is a rota with each player spending one evening a week shooing the bastards off the track.
"We could use the time to practise our drives and bowling action, albeit on your Jack Jones. It might be hard yacka but it's a beaut of an idea, especially if you bring along a few stubbies.
"I'm not sure the skipper's convinced. He thinks I've got a few roos loose in the top paddock."
After Palmer and Roche had notched their half-centuries, the latter went after the Guyanese attack with relish and reached his ton after smashing 12 fours and three sixes in 75 balls, while Palmer's elegant innings lasted 62 balls and included eight boundaries.
Captain Suk was the pick of the visiting batsmen with an unbeaten 54, while the Ramkissoon brothers both hit 39 and tailender Rubel a quick-fire 17 to give their bowlers a total to defend.
The visiting wickets were shared among the home team, with skipper Bell claiming three in his six overs, O'Rorke two in seven, and Blechynden, Wisden, Saint-Jean and Carter chipping in with one apiece.
Pirates of the St Lawrence versus Sukhdeo's Select: A Guyanese XI
Saturday 7 July 2012
The Candy Fields, Mont-Saint-Hilaire
Match type: 41 overs per side (12 wickets)
Weather conditions: Perfect for snake breeding
Result: Pirates of the St Lawrence won by 11 wickets
Sukhdeo's Select Innings
Batsman
M Saddick
H Achaibor
N Ramkissoon
Sameer
VJ
B Sukhdeo (c)
M Nowrang
Willy
T Ramkissoon
S Panday (wk)
Bobby
Rubel
T Birbal
How Out
ct Bell b O'Rorke
b O'Rorke
run out (Bell)
lbw Wisden
ct Wisden b St-Jean
retired not out
ct Mridha b Carter
lbw Blechynden
ct St-Jean b Bell
hit wicket b Bell
ct Palmer b Bell
not out
not out
R
15
0
39
9
1
54
13
6
39
1
1
17
2
B
–
–
–
–
–
–
–
–
–
–
–
–
–
4s
2
–
4
1
–
5
3
–
4
–
–
4
–
6s
–
–
1
–
–
–
–
–
–
–
–
–
–
Extras 40 (Byes 5, Leg Byes 10, No Balls 1, Wides 24)
Total 227 for 10 in 41 overs
FoW (1-2, 2-31, 3-59, 4-63, 5-88, 6-111, 7-131, 8-201, 9-201, 10-202)
Bowling
Tez O'Rorke
Manoj Mridha
Hugue St-Jean
Tom Wisden
John Carter
Dave Blechynden
Robert Savage
Angus Bell
Thiéry Milot
R
26
45
19
20
7
21
31
27
29
Pirates of the St Lawrence Innings
Batsman
Ed Palmer (wk)
Tom Wisden
Phil Roche
Thiéry Milot
Alex Thomas
Hugue St-Jean
Manoj Mridha
John Carter
Angus Bell (c)
Robert Savage
Tez O'Rorke
Dave Blechynden
How Out
retired hurt (inflamed groin) not out
b Willy
retired not out
not out
not out
DNB
DNB
DNB
DNB
DNB
DNB
R
69
3
104
28
6
–
–
–
–
–
–
–
B
62
16
75
32
15
–
–
–
–
–
–
–
4s
8
–
12
1
1
–
–
–
–
–
–
–
6s
–
–
3
1
–
–
–
–
–
–
–
–
Extras 17 (Byes 4, Leg Byes 0, No Balls 3, Wides 10)
Total 228 for 1 in 36.3 overs
FoW (1-26, 2-124*, 3-206*)
Bowling
T Birbal
Willy
H Archaibor
M Nowrang
Rubel
M Saddick
B Sukhdeo
T Ramkissoon
N Ramkissoon
S Panday
Sameer
O
6
7
1
5
1
3
5
3
3
1.3
1
R
32
29
10
24
24
18
35
29
21
11
2