September 10th, 2012 | Published in 2012, Scorecards and Match Reports
Pirates of the St Lawrence versus The Nowrang Gang: Pupa Nowrang Memorial Match
Saturday 8 September 2012
By Neville Cardus (channelling through Prashant Bhawalkar)
Photo by Mehul Vadher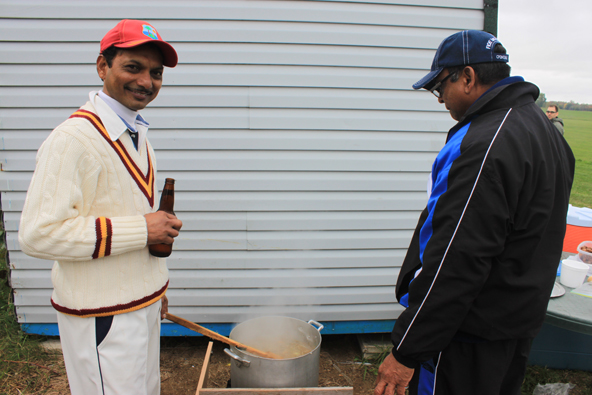 It was a match that had all the elements of a Caribbean encounter. Dark clouds were looming, and a downpour of Hurricane Patty proportions threatened the teams and spectators that had assembled at The Candy Fields for the Pupa Nowrang Memorial bash. The severity of the wind – like something from The Wizard of Oz – was insufficient to blunt the enthusiasm of either team and Pirates skipper Bell, with his usual pugnacity and enthusiasm, led his players on to the field with a toothy grin, unable to set fields in the roar.
Legault and Bhawalkar opened the bowling with the former striking first, having Saywack caught at cover. Bhawalkar then took two wickets, one bowled, the other leg before. Running into the wind – a task no one else wanted – he gratefully accepted assistance from mother nature as she made his deliveries twist in unpredictable ways.
In spite of the difficult conditions, the Nowrang Gang managed to score 230 in 34.3 overs with Vijay scoring a calypso 40, and the Sukhdeo clan chipping in with useful contributions.
The Pirates, led by a brave innings of 65 not out from their skipper in the rain, managed to hold the fort till, with thunder clapping overhead, play was no longer possible. With a final score of 108 for 6 in 24 overs, they were rescued by rain for the second time this season. Dangerous spells from Hari Sukhdeo and Ray Nowrang made batting nearly impossible, and Legault was the only batsman, apart from Bell, to reach double figures.
Having reconciled themselves to a non-result, both teams gave themselves up to the feasting that is typical of this pivotal event. The meagre comfort offered by a tent in the face of such severe weather, was admirably compensated by the generous and warm nature of the visitors and several bottles of rum and vodka.
It was, all in all, an encounter that ended in high spirits – a fitting tribute to Pupa Nowrang.
Pirates of the St Lawrence versus The Nowrang Gang
Saturday 8 September 2012
The Candy Fields, Mont-Saint-Hilaire
Match type: Drunken, 35 overs per side (11 wickets)
Weather conditions: Dry hurricane followed by squall
Result: Match abandoned due to weather
Nowrang Gang Innings
Batsman
R Birbal
D Kirpaul (wk)
T Saywack
R Sukhdeo
S Panday (wk)
Vijay
H Sukhdeo
B Sukhdeo
W Singh
N Ramkissoon
M Saddick
M Nowrang
R Nowrang (c)
How Out
b Bhawalkar
lbw Bhawalkar
ct Krishnan b Legault
ct Krishnan b Islam
b Islam
ct Roche b Bhawalkar
b Roche
lbw Carter
run out (Legault)
ct Roche b Melaram
run out (Bousfield/Bell)
not out
DNB
R
5
4
13
27
8
40
25
28
14
19
4
5
–
B
–
–
–
–
–
–
–
–
–
–
–
–
–
4s
–
–
2
5
2
5
4
3
1
4
1
–
–
6s
–
–
–
–
–
1
–
–
1
–
–
–
–
Extras 42 (Byes 16, Leg Byes 2, No Balls 3, Wides 21)
Total 230 for 11 in 34.3 overs
FoW (1-5, 2-26, 3-28, 4-44, 5-66, 6-112, 7-179, 8-180, 9-199, 10-222, 11-230)
Bowling
Matthew Legault
Prashant Bhawalkar
Sadman Islam
John Carter
Brahma Melaram
Phil Roche
Angus Bell
Pirates of the St Lawrence Innings
Batsman
Tom Wisden
Andrew Barrett (wk)
Angus Bell (c)
Sundar Krishnan
John Carter
René Bousfield (wk)
Matthew Legault
Sadman Islam
Prashant Bhawalkar
Brahma Melaram
Phil Roche
How Out
b T Birbal
b H Sukhdeo
not out
b H Sukhdeo
st D Kirpaul b R Sukhdeo
b R Nowrang
b R Nowrang
not out
DNB
DNB
DNB
R
2
5
65
0
7
5
10
4
–
–
–
B
14
11
66
5
8
8
12
9
–
–
–
Extras 20 (Byes 4, Leg Byes 4, No Balls 1, Wides 11)
Total 108 for 6 in 24 overs
FoW (1-5, 2-22, 3-22, 4-38, 5-51, 6-76)
Bowling
Hari Sukhdeo
Tony Birbal
Willy Singh
Raj Sukhdeo
Ray Nowrang
Tony Saywack
Mohammed Saddick
Dalip Kirpaul
R Birbal
R
12
9
11
18
16
18
14
5
5