June 30th, 2013 | Published in 2013, Scorecards and Match Reports
Pirates of the St Lawrence versus Mississauga Dolphins
Saturday 29 June 2013
By Neville Cardus (channelling through Prashant Bhawalkar)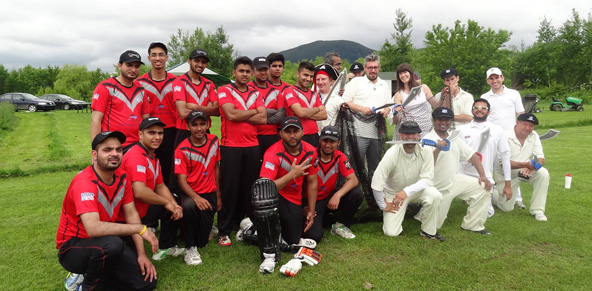 The Candy Fields' 100th game, played between Pirates of the St Lawrence and Mississauga Dolphins, was always going to be a popular affair. A television crew was there, as was a gang of belligerent, lust-filled mosquitoes determined to learn more about this curious English game. The total attendance at this event clearly underlined the fact that it was of a historical nature. When one considers, for example, that the last supper was rather poorly attended and that Archimedes was alone in his bath, is it so difficult to consider the Pirates' 100th home match a sellout?
Early in proceedings, a member of the audience declared that she would streak. At first this declaration was met with squeals of enthusiasm. However, when it became apparent to all present that there were human creatures of the under-age variety present, popular support for the motion dwindled.
The Pirates batted first with mosquitoes invading every orifice. Openers Mahon and Badugu began in a promising manner, playing exquisite strokes all around the wicket. Sadly, their collaboration didn't last. Mahon was castled by Bilal and Badugu returned to the pavilion after being dismissed in that most tragic manner — the run out.
Bell, playing his 100th cap, began solidly, holding the fort with in-form Robinson in a 46-run stand, before both were bowled. Koussioullias – between camera duties – displayed a willingness to learn that would have been lauded by his distant Olympian ancestors, only to become the latest member of the Duck on Debut Club.
Steady starts were made, in difficult conditions, by Gauthier, Milot and Varma. Gauthier, in particular, played some exquisite drives during her all-too-brief stay at the crease. The ever-reliable Horne made a useful contribution of 28. Throughout, the Dolphins' pace and spin attack maintained a near-perfect line, reflected in the staggering number of bowled dismissals.
Steady opening overs from Robinson and Bhawalkar and ruthless fielding drew the visitors into a frustration-induced slogfest, as a result of which crucial wickets were lost. One, in particular stands out — a Varma off-spinning bouncer first ball, somehow top-edged to Carter at fly slip.
A flawless innings of 42 from Hamza ensured that the dreaded Dolphins did not cave in to Bell's flippers. More than a dozen balls fell agonizingly between the in and the out-fields. But at the fall of the ninth wicket, with 5 runs or 3 wickets needed, it still appeared as though both teams were in with a chance. In the end, the Dolphins managed to scrape home by the skin of their fins.
There were celebrations well into the night. It is believed that the Pirates will be inviting the Brampton Sperm Whales for their 200th game.
Pirates of the St Lawrence versus Mississauga Dolphins
Saturday 29 June 2013
The Candy Fields, Mont-Saint-Hilaire
Match type: 45 overs per side (12 wickets)
Weather conditions: Hot, sticky and occasional showers falling from nowhere
Result: Dolphins won by 3 wickets
Pirates of the St Lawrence Innings
Batsman
Paddy Mahon
Sudeep Badugu
Angus Bell (c)
Dimitrios Koussioulias
Daniel Robinson
Julie Gauthier
Thiéry Milot
Sujth Varma
Richard Horne
Daniel Hogg
John Carter
Prashant Bhawalkar
How Out
b Bilal
run out (Omer)
b Affan
b Affan
b Daniyal
b Daniyal
b Adeel
b Daniyal
b Ali
b Ali
b Daniyal
not out
R
5
13
22
0
41
6
12
11
28
0
1
1
B
24
35
60
4
37
11
18
21
29
4
6
4
4s
–
1
2
–
6
–
1
1
1
–
–
–
6s
–
–
–
–
1
–
–
–
2
–
–
–
Extras 27 (Byes 11, Leg Byes 0, No Balls 3, Wides 13)
Total 166 for 11 in 45 overs
FoW (1-9, 2-22, 3-36, 4-82, 5-96, 6-101, 7-126, 8-134, 9-145, 10-162, 11-162)
Bowling
Ali
Bilal
Imad
Shoaib
Hamza
Adeel
Affan
Shazray
Daniyal
R
23
11
3
5
5
38
34
12
26
Mississauga Dolphins Innings
Batsman
Hamza
Waqas
Nami
Shazray
Daniyal
Adeel
Omer
Imad
Affan
Bilal
Ali
Shoaib
How Out
b Hogg
b Bhawalkar
b Robinson
c&b Milot
ct Horne b Varma
ct Carter b Varma
ct Bell b Badugu
ct Robinson b Badugu
ct Robinson b Carter
not out
not out
DNB
R
42
11
2
5
19
14
13
3
13
3
6
–
B
–
–
–
–
–
–
–
–
–
–
–
–
4s
2
–
–
–
3
–
1
–
–
–
1
–
6s
–
1
–
–
1
2
1
–
–
–
–
–
Extras 36 (Byes 1, Leg Byes 2, No Balls 0, Wides 33)
Total 167 for 9 in 33.4 overs
FoW (1-20, 2-28, 3-39, 4-60, 5-77, 6-104, 7-153, 8-156, 9-161)
Bowling
Daniel Robinson
Prashant Bhawalkar
Thiéry Milot
Angus Bell
Sujith Varma
Sudeep Badugu
Julie Gauthier
John Carter
Daniel Hogg
R
18
16
20
50
16
18
11
11
7