August 19th, 2013 | Published in 2013, Scorecards and Match Reports
Pirates of the St Lawrence versus The Mad Dogs of New York
Sunday 18 August 2013
By Lord Legless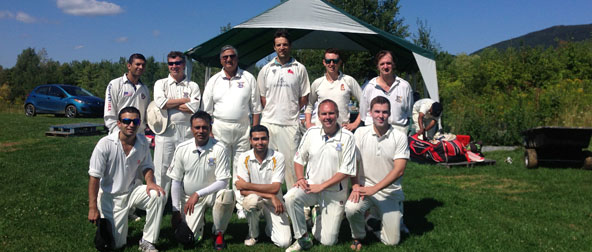 There's a reason that there is only one team depicted in the photo above. And sometimes the less said about a match, the better. This is one of those times.
For the second match of the series against the visiting Mad Dogs of New York, the Pirates fielded a competitive, but admittedly green side, and the result was a vehement visitors' victory.
The match opened with the Dogs' duo, Coutts and Hodges, finding pace and line (the former) and incredible outswing (the latter), and causing a world of trouble to the Pirates' openers, with Mahon falling for a 7-ball duck. Farishta was joined by Varma, who played a strong 19 off 17 balls (4×4) before being caught off-guard by the bounciness of a very hard pitch, and popping one off his wrists back to bowler Coutts. Farishta stuck on as one Pirate (Battacharya) and two Pirettes (Curtis and Arciero) came and went for one run in total, and forged a late rally with Legault, who notched 15 runs (2×4) for a 24-run partnership before chipping a floater out to point. Those were the last runs, but one, that the Pirates would score in their innings, as the tail-enders, Vaisman, Grant, and Carter were all dished up duck for lunch. Farishta battled on to the end, but sadly his 14 runs off 59 deliveries would not be enough to push the home side into triple digits.
With a paltry 56 runs to show for themselves, the Pirates hit the field praying for a miracle.
That miracle almost came for the Pirates in the form of their two opening bowlers, who, between them, mixed wickets with economic overs. Legault bowled one of the tightest spells of his season, going 0-18 from 5 overs (1 maiden), and Grant managed to put the frighteners up the Mad Dogs with his first career 5-wicket haul, but it was not to be for the Pirates on this day. At the stroke of 1 pm, Hodges swatted Carter's first delivery to the long grass, bringing an early end to proceedings.
Pirates of the St Lawrence versus The Mad Dogs of New York
Sunday 18 August 2013
The Candy Fields, Mont-Saint-Hilaire
Match type: 30 overs per side
Weather conditions: Hot enough to bake a soggy wicket overnight
Result: Mad Dogs won by 5 wickets
Pirates of the St Lawrence Innings
Batsman
Paddy Mahon
Reza Farishta
Sujith Varma (c/wk)
Bhujyo Bhattacharya
Raewyn Curtis
Sabrina Arciero
Matthew Legault
Laurent Vaisman
Iain Grant
John Carter
How Out
b Coutts
b Moore
c&b Coutts
lbw Hodges
b Harrison
ct Armitage b Mahtani
ct Yasir b Jaiswal
ct Armitage b Jaiswal
ct Armitage b Moore
ct Arora b Moore
Extras 6 (Byes 5, Leg Byes 0, No Balls 0, Wides 1)
Total 56 for 10 in 22 overs
FoW (1-0, 2-27, 3-29, 4-30, 5-31, 6-55, 7-55, 8-56, 9-56, 10-56)
Bowling
Coutts
Hodges
Harrison
Jaiswal
Mahtani
Moore
Mad Dogs Innings
Batsman
Arora (wk)
Bari
Harrison
Mahtani
Ashton
Hodges
Moore
Armitage
Coutts
Thakur
Jaiswal
How Out
b Grant
ct Carter b Grant
ct Varma b Grant
b Grant
b Grant
not out
not out
DNB
DNB
DNB
DNB
R
22
0
8
0
4
15
7
–
–
–
–
B
20
1
20
2
2
10
9
–
–
–
–
Extras 1 (Byes 0, Leg Byes 0, No Balls 0, Wides 1)
Total 57 for 5 in 11.1 overs
FoW (1-3, 2-28, 3-28, 4-32, 5-37)
Bowling
Iain Grant
Matthew Legault
John Carter