May 27th, 2014 | Published in 2014, Scorecards and Match Reports
Pirates of the St Lawrence versus South Stars
Sunday 25 May 2014
Photo and story by Hot Rod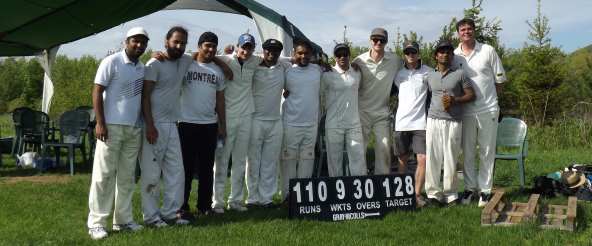 The Sunday Gang, bereft of victories for so long, assembled in apparently perfect conditions – mild, sunny, with the bright green colours of spring having finally broken through – and with a sense of optimism befitting the season, they opted to bat.
But for a while it looked like the old story. The fast growth of the grass created a deceptively slow outfield, yielding far fewer boundaries than the previous day's match had suggested. Gharat and Rodmell made positive starts but holed out before turning them into the numbers of runs hoped for. Quick wickets followed in the middle order, presenting the spectre of a full collapse. But Mandal started to turn things around with some audacious attacking play, while Woodall, conscious of the need to avoid the fall of any more wickets, dug in to produce a lengthy captain's innings and add 31 to a meagre but just-about-defendable total.
And so the bowling and fielding was what was needed to swing it. The first half of South Stars' innings was characterised by tight bowling, with Gharat producing a remarkably parsimonious 5 overs for 5 runs; a blistering display of fast bowling as Pariat came on as first change down the slope just as a following wind got behind him; a quietly efficient effort from Joshi to stem the flow of harmful extras; and noisy and aggressive support from the fielding that belied the normal image of a social cricket club playing a friendly game on a Sunday.
So the Pirates surveyed their small advantage at the drinks interval, with a nervous glance at the number of wickets South Stars had in hand. Some jitters came as Usman and Sajid launched a boundary-piercing counter-attack, suggesting a repeat of the old failures where Pirates shipped runs in the third quarter of the innings as so often before. But the bowling remained tight, with Crouch, Woodall and Badugu holding the line. Grant, in his last match for Pirates, produced a disciplined second spell where he forced mistakes as the batsmen tried to raise the run rate.
And the catches… Warya set the tone with an implausible backward-diving fingertip effort off his own bowling. Ashtaputre pouched the wicket of the big-hitting [name] in the deep before taking a startling one-handed effort at long leg. The ball stuck in the hand as [number] catches were taken in the innings. And, to the Pirates' surprise as much as anyone's, the target was defended for a rare win.
Pirates of the St Lawrence versus South Stars
Sunday 25 May 2014
The Candy Fields, Mont-Saint-Hilaire
Match type: 30 overs per side (11 wickets)
Weather conditions: Sweaty, then gloriously sunny.
Result: Pirates won by 13 runs
Pirates of the St Lawrence Innings
Batsman
Amol Gharat
Andrew Crouch
Mark Rodmell
Ian Grant
Pratik Joshi (wk)
Abhishek Mandal
Justin Pariat
Sudeep Badugu
Stephen Woodall (c)
Pranav Ashtaputre
Gurjeet Warya
How Out
b Nandan
ct Danish b Safi
ct Safi b Faraz
b Salman
b Faraz
c&b Kumail
lbw Faraz
ct Nandan b Umair
run out (Nabil)
ct Danish b Faraz
b Faraz
R
17
3
12
2
0
21
0
0
31
8
1
B
32
10
16
15
3
27
5
2
42
17
2
Extras 35 (Byes 16, Leg Byes 3, No Balls 0, Wides 16)
Total 127 for 11 in 30 overs
FoW (1-21, 2-38, 3-47, 4-51, 5-51, 6-51, 7-95, 8-125, 9-126, 10-127, 11-127)
Bowling
Safi
Kumail
Nandan
Sajid
Faraz
Salman
Umair
Danish
Shohun
R
16
21
22
9
8
11
8
12
12
South Stars Innings
Batsman
Salman
Usman (c)
Danish
Shohun
Nandan
Nabeel
Umair
Sajid
Safi
Kumail
Faraz
How Out
ct Woodall b Pariat
lbw Badugu
b Pariat
c&b Warya
ct Ashtaputre b Crouch
lbw Woodall
ct Joshi b Crouch
ct Pariat b Grant
ct Ashtaputre b Crouch
not out
not out
R
16
5
0
4
35
12
1
5
4
10
5
Extras 6 (Byes 0, Leg Byes 1, No Balls 1, Wides 4)
Total 115 for 9 in 30 overs
FoW (1-16, 2-20, 3-24, 4-49, 5-67, 6-74, 7-89, 8-97 , 9-98)
Bowling
Iain Grant
Amol Gharat
Justin Pariat
Gurjeet Warya
Stephen Woodall
Sudeep Badugu
Andrew Crouch