June 8th, 2014 | Published in 2014, Scorecards and Match Reports
Pirates of the St Lawrence versus South Stars
Saturday 7 June 2014
Photos and story by Hot Rod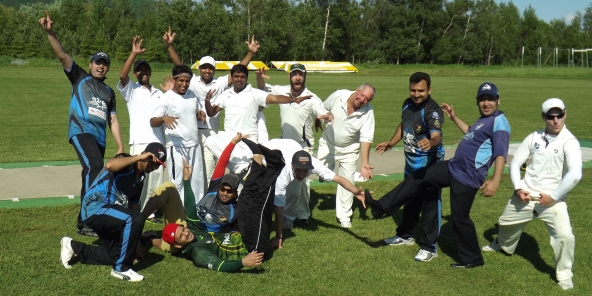 It didn't, to be honest, look as though it was going to be the Pirates' finest hour.
Summer finally arrived at The Candy Fields, and Pirates batted first as a warm morning turned into a day of beautiful sunshine. But that was the only thing that was pretty.The top order suffered a collective failure to play a straight bat to a straight ball, with only Bell and Mridha troubling the scorers in any meaningful way. Some measured resistance from Legault slowed the collapse but added only 10 to an embarrassingly small tally. At 68 for 8, disaster loomed. Tragedy turned to farce in the tenth-wicket stand as Badugu and Carter found themselves at the same end after some confused calling, and an apparently certain run out was only avoided as Badugu fell over while trying to turn round and a hapless fielder comically managed to hit Badugu's prostrate form with his throw, generating enough confusion for both batsmen somehow to make their ground and steal a single.
Then the captains agreed that the last-man-stand rule would apply to both sides. After the tenth wicket fell, the remaining batsman would continue to bat with a runner at the non-striker's end. So when Carter succumbed to another straight one, Badugu batted on.
And on. And on. Badugu stood on the burning deck whence all but he had fled (apart from his dutiful runner, Cilliers). South Stars' tails started to drop as they gently slid from a winning position to the frustration of failing to winkle the last man out. Their fielding suffered from the deflating situation they were in, allowing more runs to be added to what was suddenly looking like a credible total. Badugu eventually fell for 62 (his total being two more runs than all the other batsmen combined) and Pirates contemplated the possibility of knocking over the opposition in the afternoon.
And so they did. Farishta made pleasingly short work of the top order, and Stars, lacking much depth in their batting, seemed fazed as Carter came on at first change and gave the ball plenty of air. Catches and stumpings followed as the batters tried but failed to find a way out of the doldrums, with Bell recording 5 for 20 and Mridha claiming 4 dismissals. Sajid and Safi put up brief resistance but the wickets continued to fall. In four hours, what had looked like Pirates' worst innings for some time was transformed into a rollicking win.

Pirates of the St Lawrence versus South Stars
Saturday 07 June 2014
The Candy Fields, Mont-Saint-Hilaire
Match type: 45 overs per side (11 wickets)
Weather conditions: Best yet
Result: Pirates won by 74 runs
Pirates of St Lawrence Innings
Batsman
Angus Bell (c)
Thiéry Milot
Manoj Mridha (wk)
Andrew Crouch
Reza Farishta
Duvan Cilliers
Matthew Legault
Amol Gharat
Sadman Islam
Sudeep Badugu
John Carter
How Out
ct Shuhan b Sajid
b Kumail
c&b Kumail
b Sajid
b Sajid
b Kumail
b Nandan
ct Kumail b Etisham
ct Shuhan b Faraz
b Safi
b Safi
R
19
0
16
0
2
6
10
0
0
62
7
B
36
12
29
1
11
15
36
5
2
86
11
Extras 36 (Byes 11, Leg Byes 3, No Balls 2, Wides 20)
Total 157 for 11 in 41 overs
FoW (1-15, 2-38, 3-38, 4-41, 5-57, 6-64, 7-65, 8-68, 9-87, 10-105, 11-157)
Bowling
Safi
Kumail
Sajid
Nandan
Etisham
Faraz
Ajit
South Stars Innings
Batsman
Nandan
Navid
Etisham
Wajid
Saqib
Shuhan (c/wk)
Sajid
Safi
Mohammed
Kumail
Faraz
How Out
ct Milot b Farishta
b Gharat
ct Legault b Farishta
ct Mridha b Legault
st Mridha b Carter
st Mridha b Bell
ct Legault b Bell
b Islam
b Bell
st Mridha b Bell
b Bell
R
1
6
0
14
5
5
12
16
0
6
0
Extras 17 (Byes 1, Leg Byes 1, No Balls 0, Wides 15)
Total 84 for 11 in 27.3 overs
FoW (1-4, 2-7, 3-16, 4-36, 5-42, 6-52, 7-, 8-73 , 9-82, 10-83, 11-84)
Bowling
Amol Gharat
Reza Farishta
John Carter
Matt Legault
Angus Bell
Duvan Cilliers
Sadman Islam