September 25th, 2014 | Published in 2014, Scorecards and Match Reports
Pirates of the St Lawrence versus Bengal United
Saturday 13 September 2014
Photos and report by Sparky Rodmell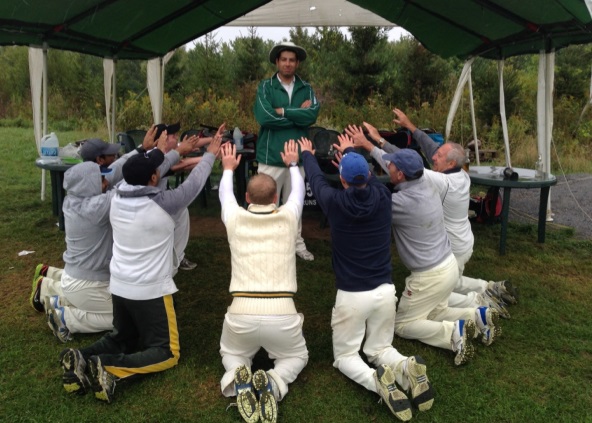 Halfway through the match, it was looking like just another game. Pirates had a chaseable target to achieve, but the weather was going to make it difficult. Darren Murphy's bowling and catching had made him an early favourite for man of the match. And then…
Okay, let's do this in the correct order. Because, believe me, it's worth reading it all the way through.
Durham league conditions prevailed at The Candy Fields on 13 September. The temperature was a bracing 6 degrees Celsius as the Pirates arrived; morning fielding practice was made unpleasant by the damp grass, and the resulting sodden slippery balls were difficult to throw and painful to catch; and play began unusually early to try to complete the game before the afternoon's forecast downpour.
Bengal United batted first, and also looked uncomfortable in the conditions. Pirates took four early wickets: two to Murphy who was adopting the simple tactic of bowling straight; and two to Islam who was, well, not bowling remotely straight but tempted two of Bengal's batters to pull a couple of long hops to backward square leg. (Both catches were pouched by Murphy, whose day it appeared to be.)
But Les Bengalais fought back strongly with attacking play and plenty of boundaries from their middle order. Pirates' fielding was a mixed picture. Catches were generally sticking, or at least heroic attempts were being made: Hess left the field for half an hour after suffering an alarming-looking head injury when attempting a forward-diving catch at mid-off. But some easy runs were being shipped, and the total was heading upwards at a worrying rate.
Some changes of bowling later, the tail had been mopped up and Bengal United had posted a total of 154. Captain Bell counselled his team that this was still a challenging target: conditions were now worsening as drizzle started to fall; it would surely be necessary to scrap and fight for every run. And Bell's warning looked well-founded as Sajid played on to a skiddy one in the third over, Pirates having only assembled three runs after a cautious start.
But then a very strange thing happened.
New boy Umar, coming in at number three, stroked his first ball gently in the direction of the covers. Rodmell, at the non-striker's end, called for a single and set off for the run. But he had taken no more than three paces before he pulled up and stared in astonishment as Umar's apparently-innocuous shot sped across the boundary.
And so for the next hour, we seemed to be watching two different matches. At one end, Rodmell stuck to the script, blocking and nudging and glancing as he sought to consolidate the innings and avoid the fall of more wickets. And at the other end, Umar hit. And hit.
Here are some of the highlights of Umar's improbable match statistics. He contributed 84% of the runs to an unbroken and match-winning second-wicket stand of 152 that took just 19 overs. His 127 not out came in 69 balls at a scoring rate of 184.06. He hit 10 sixes, three of them from consecutive balls, some of which landed more than 20 metres out of the ground. His last 27 balls went as follows: 4, 6, 6, 1, 1, 0, 6, 0, 4, 6, 1, 4, 1, 6, 0, 4, 0, 6, 6, 6, 0, 1, 4, 1, 4, 0, 4. By the end, Rodmell had stopped even bothering to try to score runs, just farming out the strike to Umar and reflecting that this was the easiest way imaginable to carry your bat through the innings.
It was a cold, wet finish to the match as the rain arrived and Umar blasted one final four to seal a nine-wicket victory. But for some reason, the Pirates' spirits seemed entirely undampened…
Pirates of the St Lawrence versus Bengal United
Saturday 13 September 2014
The Candy Fields, Mont-Saint-Hilaire
Match type: 35 overs per side
Weather conditions: A day for rugby
Result: Pirates of St Lawrence won by 9 wickets
Bengal United Innings
Batsman
Fayaz
Shezad
Rakib
Naim
Mizan
Abu
Nandan
Raiyan
Parvez
Shezad II
Naim II
How Out
ct Murphy b Islam
b Murphy
ct Murphy b Islam
b Murphy
b Sami Sajid
b Woodall
ct Woodall b Gharat
b Murphy
lbw Mughal
not out
run out (Mughal/Hess)
R
8
0
13
4
24
21
26
31
7
5
2
Extras 13 (Byes 0, Leg Byes 0, No Balls 1, Wides 12)
Total 154 for 10 in 33.4 overs
Bowling
Darren Murphy
Sadman Islam
John Carter
Stephen Woodall
Sami Sajid
Angus Bell
Amol Gharat
Sajid Mughal
Robert Hess
R
12
27
18
21
11
21
28
14
4
Pirates of St Lawrence Innings
Batsman
Sami Sajid (wk)
Mark Rodmell
Muhammad Umar (wk)
How Out
b Abu
not out
not out
Extras 10 (Byes 4, Leg Byes 1, No Balls 2, Wides 3)
Total 155 for 1 in 21.3 overs
FoW (1-3)
Bowling
Abu
Parvez
Mizan
Rakib
Fayaz
Nandan
Shezad