May 31st, 2015 | Published in 2015, Scorecards and Match Reports
Pirates of the St Lawrence versus Brossard Warriors
Saturday 30 May 2015
Photos and story by Sparky Rodmell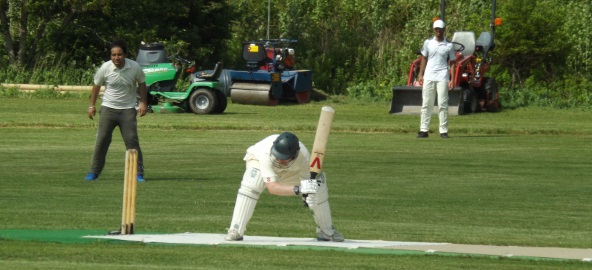 The Météo had threatened that this was the day the weather would break after a long, humid week, and so we began not only with the customary pitch preparation but with the securing of the tent and anything else that might blow away in the promised storm. But while conditions were blustery throughout, a few spots of rain caused no stoppages and the wind provided cool refreshment enabling fast and attacking play on what would otherwise have been a sticky 30-degree day.
Warriors batted first, and Pirates were for once energetic and accurate in the field, with five catches held in spite of the swirling wind and three sharp run-outs adding to a steady fall of wickets. Warriors showed the kind of consistent batting form that had brought them victory the previous Saturday, with six 20-plus scores, but never dominated: economical spells from Coetzee and wickets from Bell and Woodall kept things in check when the middle order threatened to cut loose.
Still, Warriors posted a challenging total and Captain Bell warned that two 80-plus partnerships were needed for victory. The opening partnership lasted a mere two balls, as Asif, Warriors' best bowler on the day, found the first of many edges.
But after a few early scares, Rodmell and Coetzee exploited perfect conditions as the heat dried the outfield to create a fast surface conducive to boundaries, and Coetzee was ruthless in attacking wayward balls when Warriors' bowlers' line strayed in the wind. The first 80-plus partnership was thus delivered, after which Bell (59 not out), Pariat and Newaz built innings at a brisk pace to chase the total with 7.1 overs to spare. An exhausting day of high-energy cricket brought Pirates a return victory just before the promised thunderstorm.
Pirates of the St Lawrence versus Brossard Warriors
Saturday 30 May 2015
The Candy Fields, Mont-Saint-Hilaire
Match type: 45 overs per side (11 wickets)
Result: Pirates won by 6 wickets
Brossard Warriors Innings
Batsman
Amit Kumar
Asif Ali
Rajesh Murthy
Sukhjit Thandi
Rajesh Sharma
Aman Grover
Arif
Aman Joshi
Amit Malhotra
Samba
Mohit
Sameer Malhotra
How Out
ct Coetzee b Swetman
run out (Coetzee)
lbw Bell
c&b Bell
lbw Woodall
ct Bell b Coetzee
ct Rodmell b Woodall
run out (Woodall)
ct Quigley b Bell
b Lapierre
run out (Rodmell/Bell)
not out
R
4
0
33
22
27
24
0
43
20
4
3
8
B
16
8
44
22
27
30
3
69
35
4
3
6
4s
–
–
3
1
2
4
–
3
1
1
–
–
6s
–
–
–
2
1
–
–
–
1
–
–
–
Extras 32 (Byes 9, Leg Byes 0, No Balls 5, Wides 23)
Total 222 all out in 45 overs
Bowling
Allan Swetman
Justin Pariat
Stephen Woodall
Angus Bell
Rakib Newaz
Dash Coetzee
Mike Perryman
Marc-André Lapierre
Pirates of the Saint-Lawrence Innings
Batsman
Mark Rodmell
Mike Perryman
Dash Coetzee
Angus Bell (c)
Justin Pariat
Rakib Newaz
Stephen Woodall
James Quigley
Marc-André Lapierre
Rene Bousfield (wk)
Allan Swetman
How Out
ct Amit b Sukhjit
ct Amit b Asif
ct Grover b Samba
not out
ct Amit b Sameer
c&b Grover
not out
DNB
DNB
DNB
DNB
R
29
0
51
59
24
23
8
–
–
–
–
B
45
1
45
72
25
31
7
–
–
–
–
Extras 26 (Byes 5, Leg Byes 1, No Balls 4, Wides 16)
Total 223 for 5 in 37.5 overs
Bowling
Asif
Samba
Arif
Sukhjit
Sameer
Mohit
Rajesh
Bobby Grover
R
33
41
35
21
33
23
20
17