July 22nd, 2009 | Published in FAQs, Links and Useful Info | 1 Comment

Looking for a cricket or soccer practice facility in Montreal?
Check out www.ministryofcricket.ca
Looking for cricket equipment in Montreal? Suk's Store – purveyor of fine curries and cricket equipment – at 680 Liege Ouest is the Ali Baba's Cave of cricket gear. You'll find everything you need and more, and feel like a kid in a candy store. 514-271-7002.
I would like to find cricket coaching material for kids. Is there any free resource out there?
Yes – a complete guide to running a 10-week course – FREE. Check it out HERE!
I want to know more about cricket, but where do I go? www.cricinfo.com is the world's best online resource for cricket. You'll find scorecards from around the world, the latest articles, player profiles, and more. For a complete explanation of the game, visit: cricinfo.com/db/ABOUT_CRICKET or here: www.squidoo.com/cricketfordummies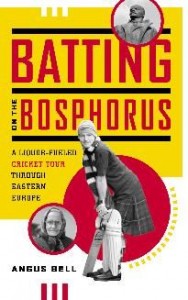 Can you recommend a good book on cricket, travel, and the paranormal? Funnily enough, yes. It's called Batting on the Bosphorus: A Liquor-Fueled Cricket Tour Through Eastern Europe by Angus Bell. You can find it here: www.amazon.ca/Batting-Bosphorus or visit www.angusjjbell.com for more info.
Is there an online news resource about Canadian cricket? You betcha! http://canadacricket.com/
Since I came to Canada seeking asylum, I haven't been able to watch cricket on the TV. Is there anything I can do? Bell sattelite TV offers cricket on the Asian Television Network via the Commonwealth Broadcasting Network. But if you are a cheapskate, you can watch it live for free here: www.wiziwig.eu For highlights, check out www.crichotline.com
I am stuck in my office with nothing to do, and I can't stop thinking about cricket. Any suggestions? Go to www.stickcricket.com, and play to your heart's content.
My girlfriend says I've been spending too much time at cricket. She wants me to rent a DVD so we can spend some time in together. Can you recommend anything? Absolutely – get La Grande Seduction (or Seducing Dr. Lewis in English). She will love you for it. www.imdb.com/title/tt0366532/
Check out some of our sister clubs:
Hoboken Cricket Club
Mad Dogs Cricket Club
Colonial Cavaliers Cricket Club
Philadelphia Cricket Club
Merion Cricket Club
British Officers Cricket Club
Toronto Cricket Skating and Curling Club
Tri-City Cricket Club
Carmel & District Cricket Club
Philadelphia International Cricket Festival
Other Quebec essentials:
Australian Pie