July 22nd, 2009 | Published in Indoor Cricket | 4 Comments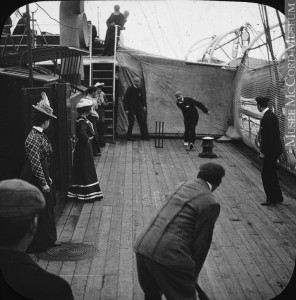 From February to April, when Canada turns to an icy netherworld, cricket continues apace indoors! Come Sunday evenings, you'll find us wading over snow banks in the darkness for our fix. Huddled together for warmth in a school gym, grown men and women can be heard screaming in ecstasy. Indoor cricket is the best way to learn the game. It's fun, fast-paced, a great place to meet new friends, there's beer afterwards and you'll receive all the coaching you need. Some people even go there on dates – come along, and you might just get lucky…
Directions to Sports Hall
The gym is in the basement of École Pierre-Dupuy, on the corner of Ontario East and Avenue des Érables. The entrance is through the glass doors at the back right of the school car park – they're hidden as you enter the car park. Go down the stairs and turn left. The gym is at the end of the corridor.
It is a 7-minute walk from Metro Frontenac (green line) or an 11-minute walk from Metro Papineau (green line). The closest major intersection is De Lorimier and Ontario East, next to the Pont Jacques-Cartier. There is free parking in the school.
Please note: If you are coming for the first time, WRITE THIS DOWN.
Time
17h30-18h30: coaching
18h30-20h30: mixed indoor matches
Cost
10$ per session (5$ for under-18s or unemployed)
You can see action from our indoor cricket in this CTV special report!