May 22nd, 2012 | Published in 2012, Scorecards and Match Reports | 5 Comments
Pirates of the St Lawrence versus Montreal Caribbean Social Organisation Bs
Monday 21 May 2012
by Neville Cardus (channeling through Prashant Bhawalkar)
Photo by Kat Roche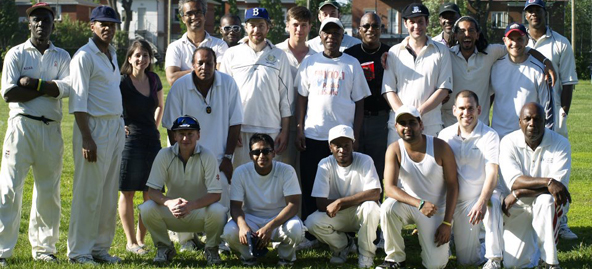 On a day marked by hot, sultry weather and equally steaming hot cricket, a brand new cricketing rivalry was born. The Pirates of the St Lawrence vs Montreal Carribean Social Organisation (MCSO) encounter, played on the Monday of the Victoria Day weekend, brought to the fore a flurry of spectacular – if short-lived – batting and intense bowling. In the end, the Pirates won by 12 runs after being on the verge of being thrashed comprehensively.
Batting first, the Pirates scored 150 for 5 in 35 overs, led from the front by a solid 46 by acting skipper Filer. The scorecard was further bolstered by a pugnacious 28 by Palmer and a quickfire 25 not out by Roche. The 5 wickets that fell do an injustice to the MCSO attack, which was led by the Ambrose-esque Taylor.
MCSO started aggressively, with Weatherspoon taking 20 off the opening Pirates over bowled by Bhawalkar. However, the 6ft4 opening bowler, from what used to be known as Bombay, recovered to account for both openers. At drinks (14 overs), MCSO had scored 89 for 4 and seemed indomitable.
They did not, however, account for Patterson, who orchestrated a stunning collapse by castling both John and Simpson. Nerves were visibly affected on both sides, as a number of balls were mistimed and hit in the air only to be dropped. In addition, tight and penetrative bowling by the ever-reliable Sakrani ensured that the MCSO batsmen were tentative and hesitant. The offspinner from Laval used his doosras to great effect to snare 2 wickets. Amidst the collapse, Brown stood firm with 42 and Taylor briefly threatened the tourists with a quickfire 25.
Fittingly, the deal was sealed by a Jonty Rhodes-esque flying catch by Patterson.
As with all games played this season, there was exemplary camaraderie between the teams. In the post-game speeches, the hosts promised to visit and vanquish the Pirates on their home turf.
Pirates of the St Lawrence versus Montreal Caribbean Social Organisation Bs
Monday 21 May 2012
Raymond Park, LaSalle
Match type: 35 overs per side
Weather conditions: Approaching Australian
Result: Pirates won by 12 runs
Pirates of the St Lawrence Innings
Batsman
Tom Wisden
Ed Palmer (wk)
Manoj Mridha
Tim Filer (c)
Jeremy Patterson
René Bousfield
Phil Roche
Dan Hogg
Prashant Bhawalkar
Aneeq Sakrani

How Out
run out (Chuck)
c&b Brown
run out
st Horne b Miller
b Bruce
not out
not out
DNB
DNB
DNB
B
25
42
14
50
23
34
20
–
–
–
Extras 27 (Byes 11, Leg Byes 2, No Balls 0, Wides 14)
Total 150 for 5 in 35 overs
FoW (1-46, 2-51, 3-66, 4-97, 5-119)
Bowling
Taylor
Jarrett
Chuck
Brown
Bruce
Miller
Simpson

MCSO Bs Innings
Batsman
Weatherspoon
Maxwell
Spooner
Brown
Horne (wk)
Taylor
John
Simpson
Jarrett
Miller
How Out
ct Wisden b Bhawalkar
ct Bousfield b Bhawalkar
ct Roche b Hogg
st Palmer b Sakrani
run out (Sakrani)
b Patterson
b Patterson
ct Filer b Patterson
not out
ct Patterson b Sakrani

Extras 22 (Byes 0, Leg Byes 3, No Balls 0, Wides 19)
Total 138 for 9 in 26.4 overs
FoW (1-31, 2-42, 3-45, 4-47, 5-76, 6-105, 8-133, 9-138)
Bowling
Prashant Bhawalkar
Dan Hogg
Manoj Mridha
Tim Filer
Jeremy Patterson
Aneeq Sakrani