May 26th, 2012 | Published in 2012, Scorecards and Match Reports
Pirates of the St Lawrence versus Concordia Cricket Club
Saturday 26 May 2012
by Neville Cardus (channeling through Prashant Bhawalkar)
Photo by Kat Roche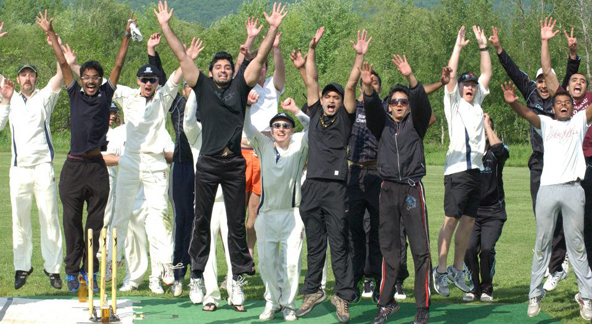 Conditions for the cricketing encounter between Pirates of the St Lawrence and Concordia University couldn't have been brighter. An uninterrupted supply of sunlight provided unceasing warmth, freedom from darkness and sufficient humidity to ensure frequent battles against lethargy. Furthermore, the grass hid legions of mosquitoes who frequently asserted their right to feast on the Gin-and-Tonic-laced blood of the spectators. In spite of these conditions the team of visiting scholars beat the home side by a convincing margin of 10 wickets (out of a possible 11).
Batting first, the Pirates posted a defendable score of 171 in 47 overs. This was achieved amidst valuable contributions from the gutsy and determined Palmer (29), the aggressive Milot (29), the silken and poetic Bell (31), and the scholarly and shrewd Granville. Only 7 wickets fell as the Concordia bowlers maintained a tight line, led by the able Salman (3-24).
The order that prevailed during the relatively sedate first innings fell to pieces when Concordia batted. No blame, of course, need be pinned on the Pirates bowlers who applied themselves admirably against a team that was clearly more experienced. The seam bowling of Legault provided the visitors with a spate of outswingers that were difficult to despatch. Skipper Bell, too, bowled a tight line. It was the consistent Granville who, adding to his batting exploits, took the sole wicket.
In a hitting spree that would have made Lance Cairns feel that he had more in common with Geoffrey Boycott, the Concordia batsmen made the Pirates bowling look easier than it was. Opener Sohaid's 68 comprised 6 fours and 3 sixes, while one-down Raheel stamped his class with an innings of 79, comprising no less than 8 sixes.
The two teams played the game in a spirit of admirable camaraderie and it is hoped that there will be many more such Gentlemen vs Scholars games in the future.
Pirates of the St Lawrence versus Concordia Cricket Club
Saturday 26 May 2012
The Candy Fields, Mont-Saint-Hilaire
Match type: 47 overs per side (11 wickets)
Weather conditions: After the tornado, there is calm
Result: Concordia won by 10 wicket
Pirates of the St Lawrence Innings
Batsman
Ed Palmer
Andrew Barrett (wk)
Phil Roche
Thiéry Milot
Tom Ford
Angus Bell (c)
Tez O'Rorke
Andrew Granville
Matthew Legault
Robert Savage
Sadman Islam
How Out
ct Jawal b Jawad
ct Bikram b Salman
ct Jawad b Salman
ct Shiva b Salman
run out
not out
b Ashfaq
run out (Bhushan)
not out
DNB
DNB
R
29
7
9
29
6
31
11
29
4
–
–
B
62
20
16
35
5
49
34
36
4
–
–
Extras 12 (Byes 3, Leg Byes 4, No Balls 1, Wides 4)
Total 171 for 7 in 47 overs
FoW (1-21, 2-36, 3-62, 4-84, 5-99, 6-117, 7-163)
Bowling
Bhushan
Junaid
Bikram
Salman
Ashfaq
Jawad
Abis
Arij
Reddy
Concordia Innings
Batsman
Hassan
Sohaid
Raheel (c)
Salman
Abis
Junaid
Siva
Arij
Ashfaq
Jawad
Prithvi
How Out
ct Ford b Granville
not out
not out
DNB
DNB
DNB
DNB
DNB
DNB
DNB
DNB
R
13
68
79
–
–
–
–
–
–
–
–
Extras 14 (Byes 2, Leg Byes 0, No Balls 0, Wides 12)
Total 174 for 1 in 32.2 overs
FoW (1-35)
Bowling
Matthew Legault
Sadman Islam
Andrew Granville
Tom Ford
Thiéry Milot
Angus Bell
Robert Savage
Tez O'Rorke