September 22nd, 2012 | Published in 2012, Scorecards and Match Reports
Pirates of the St Lawrence versus Brossard Warriors
Saturday 22 September 2012
By Neville Cardus (channelling through Prashant Bhawalkar)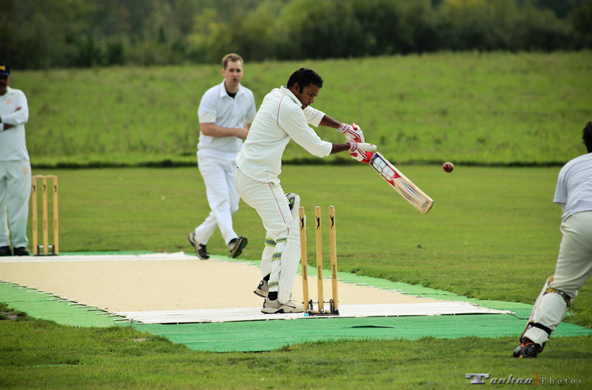 It was a match set in conditions suitably proportionate to the heartbreak experienced by the Pirates at the end of the day. It was a day of wind, darkness, and moisture, not merely in the ether, but in the hearts and minds of the Pirates who battled. Some, including the honourable Neville Cardus, have likened the event to a Greek tragedy. Others have argued that the events of the day, in harmony with the conditions, were more akin to an Icelandic saga. More utilitarian minds would, perhaps, simply shrug and compare the collapse of the Pirates' batting line-up to an England innings in the 1990s. In the end, the simple truth is that the home team simply snatched defeat out of the jaws of victory.
Reduced to 35 overs per side, thanks to the dampness and darkness, the Warriors batted first and struggled to a modest total of 164 for 10 in 30.5 overs. The extent of the bowler-friendly conditions on the day is exemplified by the fact that their highest scorers were Suraj (31) and Vikas (28).
The Warriors were restricted by some fine off spin from Carter, who, with hair flapping in the wind, tossed and turned with a rare gusto and vigour. With flight and guile, he castled the hapless Ciju and Jagdeep (first ball) and induced the befuddled Suraj into edging a catch to wicketkeeper Murthy. Carter ended with 3 for 23 off 5 overs – his best for the club – and was ably supported by Mughal, Bell and Bhawalkar, who took 2 wickets each.
Second innings, batting in near pitch black conditions, the Pirates had a rollicking start and seemed headed for victory with openers Bell and Mughal flaying the ball to the fence. But with the score on 48, Naveed Mughal launched what looked set to be a monster six, only for a 80 km/hour gale to cause the ball to drop into the hands of deep squareleg.
Bell and Alvi maintained the pace until the former top edged a sweep off the dangerous Jagdeep to backward squareleg to make it 65 for 2.
While Alvi continued to hit the ball hard and fast to all corners of the field, the Pirates' middle order began an infamous collapse. The last seven wickets produced only a single score of double figures — coming from the blade of that old stalwart Carter, who, for half an hour, and from the position of 103 for 8, looked like he was going to pull off a miraculous victory.
For the Warriors, Jagdeep and Ciju bagged three wickets apiece, while Hari got two. At no point did the asking run rate exceed 6. However, the slippery conditions coupled with an inexperienced Pirates' batting line-up ensured that the Warriors dismissed their opponents for 127, and took the game by 37 runs.
Pirates of the St Lawrence versus Brossard Warriors
Saturday 22 September 2012
The Candy Fields, Mont-Saint-Hilaire
Match type: 40 overs per side
Weather conditions: 80km/hr winds, rising 10 degrees in 10 minutes, then very dark with rain clouds
Result: Warriors won by 37 runs
Brossard Warriors Innings
Batsman
Suraj
Deepak
Sameer (wk)
Nirmal
Ciju
Jagdeep (c)
Ashish
Vikas
Sonu
Arif
Hari
How Out
ct Murthy b Carter
ct Mughal S b Bhawalkar
b Mughal S
ct Bell b Mughal S
b Carter
b Carter
b Alvi
ct Blechynden b Bell
b Bhawalkar
not out
b Bell
R
31
7
16
8
8
0
5
28
12
15
0
B
42
10
21
7
13
1
14
36
23
22
3
Extras 33 (Byes 6, Leg Byes 2, No Balls 1, Wides 24)
Total 164 for 10 in 30.5 overs
FoW (1-20, 2-63, 3-73, 4-78, 5-78, 6-92, 7-98, 8-128, 9-163, 10-164)
Bowling
Prashant Bhawalkar
Dave Blechynden
John Carter
Sajid Mughal
Fahad Alvi
Angus Bell
Pirates of the St Lawrence Innings
Batsman
Naveed Mughal
Angus Bell (c)
Fahad Alvi
Brian Llewellyn-ap-Dafydd
Sabrina Arciero
Rajesh Murthy (wk)
Sajid Mughal
Prashant Bhawalkar
John Carter
Dave Blechynden
Jean-Yves Brunet
How Out
ct Ciju b Hari
ct Hari b Jagdeep
ct Jagdeep b Ciju
b Jagdeep
b Hari
ct Suraj b Ciju
ct Sameer b Ciju
b Deepak
b Jagdeep
run out (Deepak)
absent
R
20
27
31
1
0
3
0
0
15
9
–
B
32
32
31
7
5
15
1
13
28
18
–
Extras 21 (Byes 9, Leg Byes 1, No Balls 10, Wides 10)
Total 127 for 10 in 30.1 overs
FoW (1-48, 2-65, 3-66, 4-67, 5-77, 6-77, 7-85, 8-103, 9-120, 10-127)
Bowling
Ashish
Sonu
Jagdeep
Hari
Ciju
Deepak