September 24th, 2012 | Published in 2012, Scorecards and Match Reports
Pirates of the St Lawrence versus Montreal Caribbean Social Organisation
Sunday 23 September 2012
By Neville Cardus (channelling through Prashant Bhawalkar)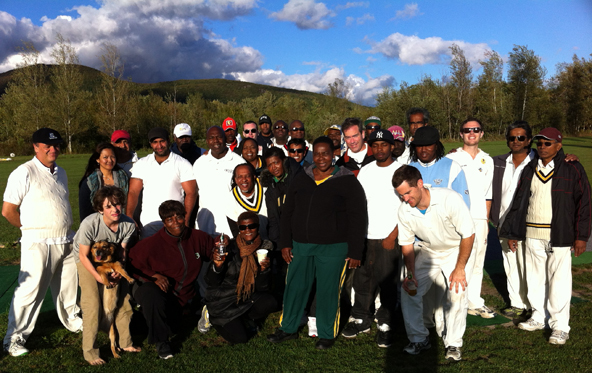 Pirates of the St Lawrence left behind the gloom of the previous day's loss against Brossard Warriors and embarked on their encounter against Montreal Caribbean Social Organisation (MCSO) with renewed vigour. After all, they had every reason to be optimistic. The last time the two teams played the Pirates snatched a hard-fought victory. Using the opponents' strengths against themselves in that previous encounter, they had caused MCSO to self-destruct. What they didn't bank on, however, was that the West Indians were out for revenge. Fielding a team of premier grade players, they went on to bludgeon the hapless St-Hilaire stars into oblivion.
Batting first, the Pirates were bowled out for 124 in 31.5 overs. The MCSO effort was led by the fiery Palmer who took 3-23 in 5 overs, all of them clean bowled. His spell brought back memories of the West Indian quartet of the 1980s.
Mridha resisted bravely, scoring 24. His knock was aggressive and involved a number of elegant drives and cuts. Following his departure, only the experienced Miller (on loan from MCSO) and Sukhdeo showed any resistance. The hapless Bhawalkar was dismissed for nought, thus providing onlookers with the entertaining spectacle of a batsman scoring a weekend pair.
It was believed that the conclusion of Palmer's spell would make things easier for the Pirates. However, Singh and DeRoche had other plans. The former took 3 for 12 in 7 overs, in what was an accurate and wily spell. The latter picked up two wickets. It is believed that the psychological web weaved by Palmer was unbreakable. Experts have since referred to this phenomenon as the Palmer effect. Indeed, it is believed that the only word more capable of inducing fear among Pirates is "snakes".
MCSO's response can be described in three words: "Venerunt, viderunt, vicerunt". In contemporary speech, this translates into "Yada, yada, yada". In spite of fast and accurate bowling by Pirates skipper Robinson, they bludgeoned their way to 125 for 3 in 14.4 overs.
This destructive endeavour was led by Singh, who added to his bowling heroics with an innings of 47 not out, comprising 5 boundaries, 4 sixes and 3 lost balls. In addition, the belligerent Weatherspoon whacked 26, during the course of which he hit the ball into the woods beyond the range of all human perception. The replacement ball proved to be of no help as the MCSO cruised to a 7-wicket victory and then proceeded to help the home side drown their sorrows.
Pirates of the St Lawrence versus Montreal Caribbean Social Organisation
Sunday 23 September 2012
The Candy Fields, Mont-Saint-Hilaire
Match type: 35 overs per side
Weather conditions: Fall glory
Result: MCSO won by 7 wickets
Pirates of the St Lawrence Innings
Batsman
Andrew Granville
Manoj Mridha (wk)
Ben Wareing
Daniel Robinson (c)
Alex Thomas
Lloyd Miller
Guillaume Miglierina
Bhajooram Sukhdeo
Brahma Melaram
Prashant Bhawalkar
Sebastian Granville
How Out
lbw Palmer
c&b Latham
b Palmer
b Palmer
run out
not out
b Singh
lbw Singh
ct Singh b DeRoche
run out
b Singh
R
0
24
2
0
9
33
0
11
9
0
0
Extras 36 (Byes 8, Leg Byes 0, No Balls 10, Wides 18)
Total 124 for 10 in 31.5 overs
FoW (1-5, 2-10, 3-23, 4-45, 5-56, 6-56, 7-103, 8-117, 9-118, 10-124)
Bowling
O Palmer
N Rose
V Latham
H Singh
E Spooner
M DeRoche
R Simpson
K Isaacs
MCSO Innings
Batsman
R Weatherspoon
M DeRoche
K Isaacs
H Singh
B Maxwell (c)
E Spooner
O Palmer
R Simpson
V Latham
N Rose
How Out
b Melaram
b Robinson
b Granville
not out
not out
DNB
DNB
DNB
DNB
DNB
Extras 14 (Byes 6, Leg Byes 0, No Balls 0, Wides 8)
Total 125 for 3 in 14.4 overs
FoW (1-10, 2-48, 3-103)
Bowling
Prashant Bhawalkar
Daniel Robinson
Bhajooram Sukhdeo
Brahma Melaram
Andrew Granville
Guillaume Miglierina