May 9th, 2013 | Published in 2013, Scorecards and Match Reports
Pirates of the St Lawrence versus Cosmopolitans: A Trinidadian XI
Saturday 4 May 2013
By Even Stephen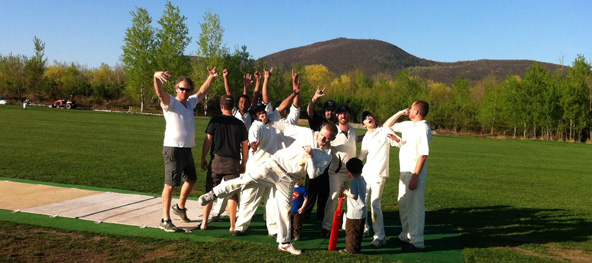 For a first game of the season, The Candy Fields offered the perfect setting: spring foliage, sunshine, friendly faces, cold beers and Trinidadian accents. Some cracking groundwork ensured net practice, shade and a rock solid pitch to get the season under way. Gone, too, was the swarm of bees on the wicket that had threatened play for much of the previous week.
The Pirates elected to field and saw the first ball of 2013 sail over long off for six. Kam provided a fine innings of 40 for the visitors in an explosive opening stand which gave the Cosmos a healthy start, only to be pegged back by flawless catching and fielding. Captain Bell's dance moves and leg breaks led the charge with an excellent 4-24, supported by debutant Xavier Clements, who took 2-11 in his first ever game of cricket. Dan Robinson took two catches – including one sizzler at deep midwicket – and Ramy Sharma gobbled a skier at long-on to ensure the Cosmos were reduced to 213 all out.
A couple of erratic shots gave left-arm seamer Lendel two scalps to leave the Pirates struggling shortly into their innings, only to see Bell leading the front yet again, accompanied by remaining opener Joshi. Some fluent strokes took Joshi to 25 before being bowled around his legs.
Hope was rebuilding in Pirates' camp as a partnership of 56 between Bell (36) and Robinson (24) took the Pirates to 118-3.
But Kam followed up his strong batting with three wickets, as he and Mithun claimed 5 wickets for 7 runs in a devastating collapse.
Despite some late resistance from Ramy and the Flying Doctor Hess, the Pirate ship sank for 155, 58 runs short of their target.
Warm words from the captains and photos ended what was, in the words of Geoffrey Boycott, "a wonderful day's cricket", with many positive signs for the season ahead.
Pirates of the St Lawrence versus Cosmopolitans: A Trinidadian XI
Saturday 4 May 2013
The Candy Fields, Mont-Saint-Hilaire
Match type: 42 overs per side (11 wickets)
Weather conditions: August in May
Result: Cosmopolitans won by 58 runs
Cosmopolitans Innings
Batsman
Kam
Louis (wk)
Reagan
Therron
Lendel
Milette
Ken (c)
Kennick
M. Pem
Venkat
Brady (wk)
Raj
How Out
st Barrett b Bell
ct Barrett b Legault
ct Woodall b Kelly Morton
ct Woodall b Bell
ct Robinson b Badugu
ct Sharma b Bell
ct Robinson b Bell
run out (Bell)
lbw Clements
retired not out
b Clements
not out
R
40
21
11
27
4
17
0
4
18
16
9
3
B
–
–
–
–
–
–
–
–
–
–
–
–
4s
5
4
1
4
1
2
–
–
1
2
–
–
6s
–
1
–
1
–
1
–
–
1
–
1
–
Extras 43 (Byes 20, Leg Byes 8, No Balls 1, Wides 14)
Total 213 for 10 in 41 overs
FoW (21, 2-64, 5-120, 6-143, 11-213)
Bowling
Matthew Legault
Sadman Islam
Adam Kelly Morton
Robert Hess
Angus Bell
Stephen Woodall
Daniel Robinson
Ramy Sharma
Pratik Joshi
Sudeep Badugu
Xavier Clements
R
27
17
18
16
24
35
16
15
14
16
11
Pirates of the St Lawrence Innings
Batsman
Pratik Joshi
Stephen Woodall
Sudeep Badugu
Angus Bell (c)
Daniel Robinson
Andrew Barrett (wk)
Ramy Sharma
Adam Kelly Morton
Matthew Legault
Robert Hess
Xavier Clements
Sadman Islam
How Out
b Brady
b Lendel
ct Louis b Lendel
lbw Kam
c&b Kam
b Mithun
st Brady b Darrell
lbw Kam
ct Louis b Mithun
ct Milette b Darrell
not out
ct Mithun b Milette
R
25
3
6
36
24
0
12
0
0
9
2
0
B
35
6
5
69
43
6
15
3
5
15
8
3
4s
2
–
1
3
1
–
1
–
–
1
–
–
6s
–
–
–
–
–
–
–
–
–
–
–
–
Extras 38 (Byes 10, Leg Byes 5, No Balls 1, Wides 22)
Total 155 for 11 in 38.3 overs
FoW (1-8, 2-29, 3-62, 4-118, 5-124, 6-124, 7-124, 8-125, 9-142, 10-152, 11-155)
Bowling
Lendel
Millette
Ken
Brady
Kam
Therron
Mithun
Venkat
Darell
Louis
R
19
19
11
26
12
26
6
15
5
1