May 9th, 2013 | Published in 2013, Scorecards and Match Reports
Pirates of the St Lawrence versus Bengal United
Sunday 5 May 2013
By Neville Cardus (channelling through Prashant Bhawalkar)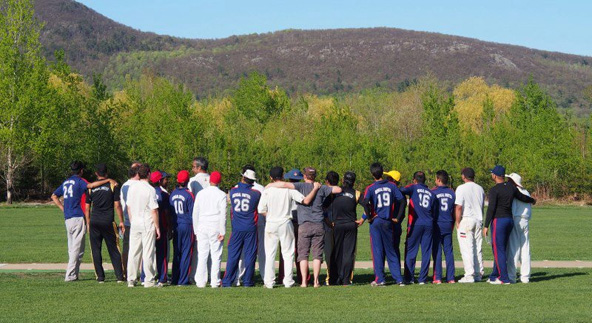 A thrilling one-wicket win by the Pirates over Bengal United announced the arrival of a new phenomenon — the competitive social cricket match. Definitive steps were taken in this direction by Pirates' skipper Robinson, whose tactical nous and attacking instincts helped restrict a beleaguered Bengal team to a modest total of 155 all out in 34.2 overs. The intensity shown by both sides ensured that only two batsmen — one from either side — managed to cross 30 in the match. This honour went to Pirate Joshi and Bengal opener Raiyan.
While the Pirates had previously dominated opposition teams through shrewd choking tactics, they proved on this occasion that they now had the depth and ability to go on the offensive.
Right from the beginning, the determined expressions on the faces of the Pirates were gritty and indicative of a will to make the opposition scrap for runs. An attacking field, brilliantly engineered and executed by Robinson, further enhanced this state of siege that was building up in the minds of the Bengalis. To cap it off, stellar debut performances by Bharmauria and Vadnerkar (two wickets apiece) left the visitors nonplussed. Having sent a sharp, young team of hard-hitters, they were clearly expecting to be able to slog their way through the match.
While stalwart Bhawalkar struggled through his overs, often straying the ball uncontrollably, Bharmauria ensured that the Bengalis didn't have any space to free their arms. Each ball was perfectly pitched and served to frustrate the visitors. Announcing his presence with the early wicket of Shishir, he indicated that he was going to be a force to contend with.
Equally, Vadnerkar's left arm chinamen caught the Bengal batsmen unaware and left them floundering.
When the Bengalis took the field, it was evident that they weren't going to surrender without a fight. Their young pace attack was on fire and was ably resisted only by Joshi who built his team's foundations with an elegant and gutsy 39.
Mahfuz, Sagor and Sudd shared the bowling honours with 2 wickets each. Mahfuz, bowling with pace and fire, easily rivalled the heat that was causing a great deal of sweat and discomfort to both teams.
Eventually it took the calm demeanour of Montreal legend Bhajooram Sukhdeo to drive the home team to their victory. Joined at the crease, with 11 runs remaining, by diffident number 11 Bhawalkar, the veteran Guyanese batsman seemed to have all the time in the world while facing this exhibition of fire. His partner, on the other hand, did everything he could to make Courtney Walsh look like an opening batsman. Eventually, Suk ended the suspense by effortlessly opening the face of the bat and sending the ball past slip for a match-winning boundary.
Pirates of the St Lawrence versus Bengal United
Sunday 5 May 2013
The Candy Fields, Mont-Saint-Hilaire
Match type: 35 overs per side
Weather conditions: Alarmingly dry
Result: Pirates of the St Lawrence won by 1 wicket
Bengal United Innings
Batsman
Shishir
Raiyan
Nandan
Shagor
Dibarkar (wk)
Rakib
Mizan
Istiak
Moghis
Mahfuz (c)
Sud
How Out
b Bharmauria
lbw Bhawalkar
ct Sukhdeo b Bharmauria
b Sukhdeo
run out (Robinson)
ct Robinson b Varma
ct Joshi b Vadnerkar
ct Joshi b Vadnerkar
b Islam
not out
run out (Bharmauria)
R
1
34
5
21
1
6
21
23
0
13
7
B
4
52
23
15
8
25
20
28
5
13
9
Extras 23 (Byes 5, Leg Byes 4, No Balls 1, Wides 13)
Total 155 for 10 in 34.2 overs
Bowling
Prashant Bhawalkar
Vishal Bharmauria
Sadman Islam
Sujith Varma
Bhajooram Sukhdeo
Ben Wareing
Abhishek Vadnerkar
Pirates of the St Lawrence Innings
Batsman
Pratik Joshi
Abhishek Vadnerkar
Andrew Granville
Sujith Varma
Daniel Robinson (c)
Andrew Barrett (wk)
Sadman Islam
Vishal Bharmauria
Ben Wareing
Bhajooram Sukhdeo
Prashant Bhawalkar
How Out
lbw Sagor
lbw Sagor
run out (Afran)
b Sudd
run out (Raiyan)
b Mahfuz
b Mahfuz
ct Dibarkar b Mughis
b Sudd
not out
not out
R
39
0
11
4
2
16
0
12
8
11
1
B
70
3
13
15
5
31
1
28
17
19
7
Extras 54 (Byes 1, Leg Byes 5, No Balls 13, Wides 35)
Total 158 for 9 in 32.1 overs
FoW (1-2, 2-15, 3-38, 4-46, 5-111, 6-111, 7-111, 8-131, 9-145)
Bowling
Mizan
Sagor
Afran
Sudd
Mughis
Mahfuz
Nandan
Main