June 1st, 2013 | Published in 2013, Scorecards and Match Reports | 1 Comment
Pirates of the St Lawrence versus West Island Tigers
Saturday 1 June 2013
By Neville Cardus (channelling through Prashant Bhawalkar) with additional commentary by Jock Strap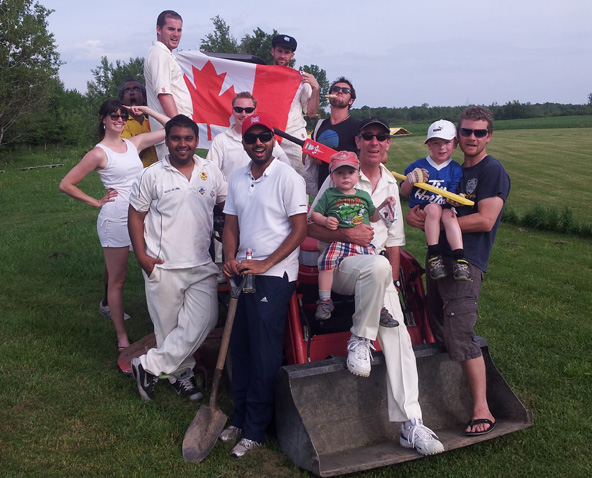 On a day that can only be described as an entomologist's delight, Pirates of the St Lawrence stamped their superiority over the West Island Tigers with a thumping 8-wicket win. The insect population in Mont-St-Hilaire announced its intention to socialize with the comparatively-scarce swathe of humanity, thanks to the hot, sticky conditions, as sweat levels reached an all-time high. In addition to the thirst, an hour-long delay in lunch ensued due to the unwillingness of the rice and vegetable dish to thaw on the bbq. Eventually a microwave was sought from the chocolate factory and jacked into the barn.
On the field, young sci-fi buff from the backwater of Melbourne, Xavier Clements, playing in only his third game of cricket, claimed a hat-trick with his deceptive slow pacers. This is the first hat-trick by a Pirate in the more recognized form of the game. Later in the match, he added to his laurels by hitting the winning run in conjunction with fellow Melbournian Robinson (29 n.o.).
Of course, the match had its other stars. Maninder of the Tigers, playing in his usual swashbuckling style, scored 73 off 48 deliveries with 6 fours and 5 sixes. He was fortunate to survive an appeal for a catch off the glove down leg side by Barrett (flawless all day) off Gauthier on 46. The rest of his team, along with extras, mustered only 49, leaving the Pirates 123 to win.
The Tigers were initially well-restrained by Bhawalkar (1 for 8 in 3 overs) and Robinson, whose 5 overs conceded 3 runs and included 2 wickets. The gentler bowling of Arciero, Gauthier and Vadnerkar added to the Tigers' misery, backed by electric fielding. Arciero struck with just her second delivery as Vadnerkar dived forward at deep squareleg to bag a sizzler. Bell then removed Maninder with his second ball, a top-edge gobbled by Julius at deep mid wicket. Dangerman Sonu was then bowled through the gate next ball. Julius starred in the field, snaring three catches and two run outs. Bell ended with figures of 4 for 3, while Clements wrapped up the rest in 3 balls.
Chasing 123, the Pirates were ably led by Joshi, who combined elegance with power. Driving and cutting the opposition to despair, his 63 not out (his maiden fifty for the Pirates) came off 63 deliveries. He found solid support from Hess in a 46-run partnership. Finishing the game in style, Robinson swatted two sixes in his 29 not out to give the Pirates their third, and most resounding, win of the season.
Throughout the game, the Pirates displayed resilience and determination, as exemplified by Gauthier. Struck on her shoulder by a vicious bouncer while new at the crease, she bit her lip and provided Joshi with crucial support. It was through such displays of courage that the Pirates overcame the memory of earlier defeats and stamped their authority on the match.
Pirates of the St Lawrence versus West Island Tigers
Saturday 1 June 2013
The Candy Fields, Mont-Saint-Hilaire
Match type: 45 overs per side (13 wickets)
Weather conditions: Dangerously hot and sweaty
Result: Pirates of the St Lawrence won by 8 wickets
West Island Tigers Innings
Batsman
Rajan
Shiva (wk)
Santosh
Daud
Maninder (c)
Sonu
Amit
Manju
Sandeep
Inderjit
Imran
Avinesh
Santosh (2)
Santosh (3)
How Out
run out (Julius)
b Robinson
lbw Bhawalkar
ct Vadnerkar b Arciero
ct Julius b Bell
b Bell
b Bell
run out (Robinson)
run out (Julius)
ct Ramgulam b Clements
ct Julius b Bell
not out
lbw Clements
ct Julius b Clements
R
15
0
0
5
73
2
2
4
1
1
3
1
0
0
B
31
12
2
5
48
8
13
6
7
3
3
3
0
0
4s
1
–
–
–
6
–
–
–
–
–
–
–
–
–
6s
–
–
–
–
5
–
–
–
–
–
–
–
–
–
Extras 15 (Byes 2, Leg Byes 0, No Balls 0, Wides 13)
Total 122 for 13 in 29.2 overs
FoW (1-4, 2-5, 3-10, 4-80, 5-110, 6-110, 7-114, 8-118, 9-120, 10-122, 11-122, 12-122, 13-122)
Bowling
Prashant Bhawalkar
Daniel Robinson
Sabrina Arciero
Julie Gauthier
Matthew Julius
Abhishek Vadnerkar
Angus Bell
Xavier Clements
Pirates of the St Lawrence Innings
Batsman
Pratik Joshi
Vijay Ramgulam
Robert Hess
Sato Panday
Julie Gauthier
Daniel Robinson
Andrew Barrett (wk)
Xavier Clements
Matthew Julius
Abhishek Vadnerkar
Prashant Bhawalkar
Angus Bell (c)
Sabrina Arciero
How Out
retired not out
c&b Santosh
b Maninder
ct Santosh b Imran
b Santosh
not out
b Rajan
not out
DNB
DNB
DNB
DNB
absent
R
63
0
7
2
1
29
1
3
–
–
–
–
–
B
63
6
39
3
11
28
9
5
–
–
–
–
–
4s
3
–
–
–
–
1
–
–
–
–
–
–
–
6s
4
–
–
–
–
2
–
–
–
–
–
–
–
Extras 12 (Byes 1, Leg Byes 0, No Balls 0, Wides 11)
Total 123 for 5 in 26.5 overs
FoW (1-0, 2-46, 3-49, 4-54, 5-99*, 6-105)
Bowling
Santosh
Imran
Maninder
Inderjit
Daud
Sonu
Rajan
Manju