May 23rd, 2013 | Published in 2013, Scorecards and Match Reports
Pirates of the St Lawrence versus Montreal Caribbean Social Organisation
Monday 20 May 2013
By Steady Eddie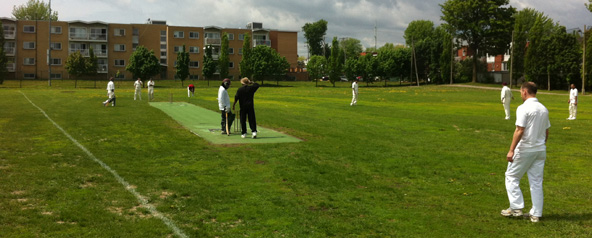 The Bank Holiday Monday dawned damp and rainy but with a fine forecast for the afternoon the match against MCSO Bs in LaSalle went ahead. Arrival time was stated as 11 am for an 11.30 am start but some heeded Cap'n' Bell's warning and arrived for a 12.30 pm start. In the end, the game started closer to 1.30 pm as the hosts trickled in. Still time for 30 overs.
MCSO won the toss and elected make first use of the Astroturf. The muscly openers soon put the visitors to the sword. The Pirate opening bowlers were picked off even when they bowled a good ball. Hogg made the breakthrough with his little dobbers, as Harpreet eyed the shorter boundary and swung and missed. Bowling a mix of wides and straight ones, Hogg picked up three good wickets.
DeRoche held up his end as the Pirates chipped through the line-up, but the scoring kept at a rapid rate. The fielding was sharp, and only one catch went to ground, but plenty blows found their way to the boundary.
Melaram came on late and produced a fine spell of outswing while Bousfield took the catch of the season in the deep, later adding a wicket with a flighted away-drifter.
Munawar made the best appeal of the day, putting Dale Stetyn to shame.
Unfortunately, wides (a whopping 45 of them) ended up being the second highest scorer after DeRoche was out in the final over for an impressive 104. A score of 208 in 30 overs in a lush cow pasture was always a big ask.
In the Pirates innings, Mahon, back after a three-year hiatus, reached his top score for the club (23) with pulls and hooks against the Jamaican quicks.
MCSO's bowling and fielding was impressive, with a one-handed catch in the gulley taking top prize.
A few meaty blows from Palmer in middle overs and Melaram at the end were not enough to keep up with the required run-rate, but at least the visitors made it past 100.
MCSO made fine hosts with a BBQ, drinks, lots of supporters and a jamboree after the game. A very enjoyable day.
Pirates of the St Lawrence versus Montreal Caribbean Social Organisation
Monday 20 May 2013
Raymond Park, LaSalle, Montreal
Match type: 30 overs per side
Toss won by: MCSO
Weather conditions: Typhoon in the morning, sunny by start of play
Result: MCSO won by 103 runs
MCSO Innings
Batsman
M DeRoche (wk)
Harpreet
R Weatherspoon
B Maxwell
Blaine
S Panday
Parchment
Palmer
P MacFarlane
L Miller
Jarret
How Out
lbw Hasan
b Hogg
ct Legault b Hogg
b Hogg
lbw Melaram
ct Joshi b Melaram
ct Bousfield b Melaram
lbw Munawar
b Bousfield
run out (Legault/Hasan)
not out
R
104
13
0
2
10
0
18
0
5
8
0
Extras 48 (Byes 0, Leg Byes 1, No Balls 2, Wides 45)
Total 208 for 10 in 29.3 overs
FoW (1-63, 2-63, 3-66, 4-130, 5-130, 6-172, 7-178, 8-192, 9-208, 10-208)
Bowling
Matthew Legault
Vishal Bharmauria
Daniel Hogg
Tony Jiggins
Reza Farishta
Brahma Melaram
Ehtisham Munawar
Kazi Hasan
René Bousfield
R
40
26
25
28
34
21
12
17
7
Pirates of the St Lawrence Innings
Batsman
Paddy Mahon
Pratik Joshi
Vishal Bharmauria
Kazi Hasan
Reza Farishta
Eddie Palmer (wk)
Matthew Legault (c)
Dan Hogg
Tony Jiggins
René Bousfield
Brahma Melaram
Ehtisham Munawar
How Out
st DeRoche b Miller
b Parchment
lbw Parchment
ct DeRoche b Parchment
run out
ct DeRoche b Miller
b DeRoche
lbw DeRoche
ct ? b Maxwell
b Maxwell
b Weatherspoon
not out
R
23
8
4
0
1
16
7
0
1
2
17
0
B
49
23
4
2
11
16
17
4
3
8
11
4
4s
2
1
1
–
–
3
–
–
–
–
3
–
6s
–
–
–
–
–
–
–
–
–
–
–
–
Extras 26 (Byes 1, Leg Byes 12, No Balls 1, Wides 12)
Total 105 for 11 in 26.5 overs
FoW (1-26, 2-30, 3-32, 4-39, 5-60, 6-78, 7-79, 8-80, 9-88, 10-91, 11-105)
Bowling
Jarret
Parchment
Palmer
Blaine
Harpreet
Miller
Panday
DeRoche
Maxwell
Weatherspoon
R
8
20
2
18
10
2
13
4
9
12