July 27th, 2013 | Published in 2013, Scorecards and Match Reports | 1 Comment
Pirates of the St Lawrence versus Bengal United
Sunday 21 July 2013
By Neville Cardus (channelling through Prashant Bhawalkar)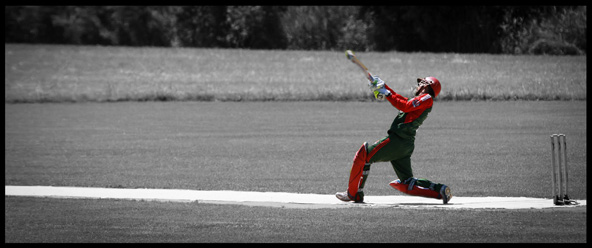 A thrashing at the hands of Bengal United wasn't on the roster of expected results that particular Sunday morning. Having overcome the Brossard Warriors by a wafer-thin margin only the previous day, the St Hilaire legends naturally fancied their chances against an opponent they had played only too often. Add to this, the fact that previous encounters between the two teams had been closely fought with no quarter given and none taken, the Pirates ' submission is indeed perplexing.
The tone for the game was set on the second ball of the day, bowled by Bhawalkar to Dhaka thunderbolt Mahfuz. The batsman, attempting a shot that closely resembled a leg glance and a sweep, only managed a top edge that flew into orbit. By the time it began its downward journey, the bowler was underneath and had all but started the celebrations that accompany an early breakthrough of this magnitude.
However, someone had turned on the improbability drive and Bhawalkar continued his nightmare (two-year) catching run by grassing the chance. He was to continue this trend later in the game off the bowling of NSW stalwart John Carter. However, he wasn't the only one. A number of catches were dropped that day, a blemish on the Pirates' near-perfect catching record this season. As a result four batsmen scored fifties—Mahfuz (69), Dibarkar (60), Sajib (54), and Ali (57). What made the innings remarkable is that, unlike other visiting teams, the Bengal boys scored a huge proportion of runs through quick, clever singles. The good balls were often gently nudged between gaps for ones and twos, frustrating the bowlers and fielders.
But surprises were in store. The Pirates innings was to produce one of the masterpieces of the season and, indeed, Pirate history. Opening batsman Joshi almost batted through the innings to make 160, surpassing the previous highest Pirates score of 140 n.o. by Angus Bell. In this, he was well-supported by the consistent Krishnan who scored 34.
Debutant Wershof deserves a special mention. In his first appearance on a cricket field, the Albertan showed none of the hesitation that is normally associated with novices. Earlier in the day, he had taken a catch and affected a run out. While his 8 runs might appear meager, they did include a straight drive along the ground for 4 of the variety that more seasoned batsman often only dream of.
Pirates of the St Lawrence versus Bengal United
Sunday 21 June 2013
The Candy Fields, Mont-Saint-Hilaire
Match type: 40 overs per side
Weather conditions: Conducive to big runs
Result: Bengal United won by 34 runs
Bengal United Innings
Batsman
Mahfuz (c)
Dibarkar (wk)
Sajib
Rakib (c)
Nandan
Afran
Ali
Raiyaan
Istiak
Naim
Main
Jiya
Sudd
How Out
run out (Joshi)
ct Krishnan b Carter
b Bhawalkar
b Joshi
ct Wershof b Munawar
run out (Wershof)
not out
ct Llewellyn-ap-Dafydd
run out (Brown)
ct Varma b Wareing
not out
DNB
DNB
R
69
60
54
11
4
0
57
9
0
12
8
–
–
B
75
43
53
14
8
0
33
5
1
9
7
–
–
4s
5
8
11
1
–
–
6
2
–
2
1
–
–
6s
–
–
–
–
–
–
–
–
–
–
–
–
–
Extras 26 (Byes 0, Leg Byes 4, No Balls 7, Wides 15)
Total 310 for 9 in 40 overs
FoW (1-90, 2-192, 3-208, 4-220, 5-221, 6-221, 7-240, 8-240, 9-274)
Bowling
Prashant Bhawalkar
Ehtisham Munawar
John Carter
Abhishek Vadnerkar
Ben Wareing
Sundar Krishnan
Pratik Joshi
Niall Brown
Brian Llewellyn-ap-Dafydd
R
46
46
47
58
51
17
13
29
2
Pirates of the St Lawrence Innings
Batsman
Pratik Joshi (wk)
Bhujyo Bhattacharya
Sujith Varma (c/wk)
Sundar Krishnan
Stuart Wershof
Brian Llewellyn-ap-Dafydd
Ben Wareing
Niall Brown
Abhishek Vadnerkar
John Carter
Prashant Bhawalkar
Ehtisham Munawar
How Out
b Sajib
b Sudd
c&b Dibarkar
b Sajib
b Rakib
b Rakib
run out (Afran)
not out
not out
DNB
DNB
DNB
R
160
2
8
34
8
0
7
1
4
–
–
–
B
122
7
36
45
11
2
5
6
3
–
–
–
4s
20
–
–
3
1
–
1
–
–
–
–
–
6s
6
–
–
–
–
–
–
–
–
–
–
–
Extras 52 (Byes 0, Leg Byes 6, No Balls 1, Wides 45)
Total 276 for 7 in 40 overs
FoW (1-13, 2-71, 3-193, 4-240, 5-240)
Bowling
Afran
Sudd
Dibarkar
Rakib
Raiyaan
Mahfuz
Main
Sajib
Nandan
Ali
R
27
41
28
32
22
19
27
38
35
0