August 5th, 2013 | Published in 2013, Scorecards and Match Reports | 1 Comment
Pirates of the St Lawrence versus Rolls Royce Aviators
Sunday 28 July 2013
By Neville Cardus (channelling through Prashant Bhawalkar)
Photo by Mark Rodmell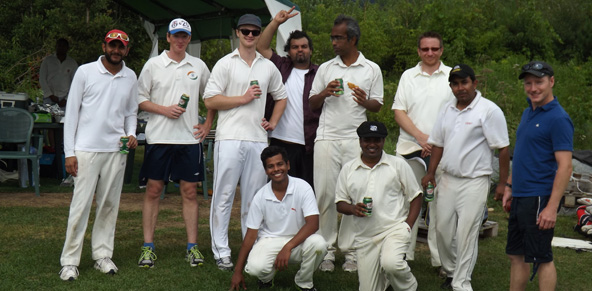 Having forgotten their previous thrashing by the Pirates of the St Lawrence, Rolls Royce Aviators rolled in brimming with optimism. This mood was partially justified, bearing in mind the fact that they now had the near-invincible Ro Jayasuriya in their batting line up. His insistence that he was not related to the Test batsman of the same name was taken with a grain of salt after he launched into an elegant cover drive off Islam immediately upon arrival at the crease. There was nothing wrong with the delivery. In fact, mere mortals would have found it threatening.
Sadly, however, this was to be the only flicker of danger to the home team that day, as the pace attack comprising Bhawalkar, Islam, and newcomer Grant, and the spin attack led by stalwart Sukhdeo, ensured a comfortable Pirate victory. In addition, there was brilliant fielding to be witnessed from Badugu and newcomer Vaisman.
Earlier that day, Badugu had anticipated his brilliant day in the field with a majestic 74 not out – his first fifty for the Pirates. He had been capably supported by all who batted, particularly Islam, whose personal-best 25 won the hearts of all. On a pitch that was keeping low, the Pirates displayed steely resolve and concentration to post a respectable score of 190.
Islam's innings was flamboyant and daring, and it is hoped that he learns to back his overall cricketing abilities and matures into a genuine allrounder. Badugu, resembling Ranatunga in everything but his righthandedness, put on a display of defiance that frustrated the mild-mannered aviators. His innings had all the makings of a Pirates classic.
The Pirates began steadily, with Bhawalkar snagging two early wickets and serving up three maidens on the trot. Soon after, however, he compensated by bowling a series of short balls which led to the relatively-expensive figures of 2-20 in 7 overs. He was backed in the field by Badugu, who grabbed two catches, the first pedaling backwards with the sun in his eyes.
This tidy opening spell laid the foundations for a Suk special, as the veteran snapped three wickets after continuously beating the bat with his wily off breaks.
It was, however, newcomer Vaisman who impressed the most. The Parisian-Quebecois sensation, whose only previous exposure to cricket had been through the world of betting, caught two brilliant catches with the ease of one who had been playing the game all his life. The first, in particular, was a feast for the eyes as it dipped and was caught low, almost on the ground. It is believed that he has a brilliant future in social cricket.
Pirates of the St Lawrence versus Rolls Royce Aviators
Sunday 28 July 2013
The Candy Fields, Mont-Saint-Hilaire
Match type: 35 overs per side (11 wickets)
Weather conditions: Capable of lifting the marquee in the air
Result: Pirates of the St Lawrence won by 28 runs
Pirates of the St Lawrence Innings
Batsman
Mark Rodmell
Ramy Sharma
Kazi Hasan
Sudeep Badugu
Mark Taylor
Iain Grant
Sujith Varma (c/wk)
Sadman Islam
Laurent Vaisman
Prashant Bhawalkar
Bhajooram Sukhdeo
How Out
lbw Aqib
ct Ahok b Aqib
b Santosh
not out
b Vinod
b Ashok
ct Ro b Ashok
b Richard
DNB
DNB
DNB
R
3
12
1
74
9
5
17
25
–
–
–
B
12
16
3
81
29
14
15
20
–
–
–
Extras 25 (Byes 16, Leg Byes 0, No Balls 2, Wides 16)
Total 170 for 7 in 35 overs
FoW (1-12, 2-13, 3-20, 4-48, 5-57, 6-110, 7-170)
Bowling
Santosh
Aqib
Julian
Vinod
Ashok
Ro
Paddy
Richard
Rolls Royce Aviators Innings
Batsman
Richard
Santosh
Vinod
Ashok
Ro
Chris
Paul
Aqib
Paddy (c/wk)
Steve
Julian
How Out
lbw Bhawalkar
ct Badugu b Bhawalkar
ct Vaisman b Islam
retired hurt
st Varma b Sukhdeo
b Sukhdeo
ct Badugu b Sharma
ct Vaisman b Sukhdeo
not out
st Varma b Sharma
st Varma b Rodmell
R
2
3
21
29
24
0
0
0
4
8
15
B
16
4
29
42
26
7
5
3
11
12
10
Extras 37 (Byes 11, Leg Byes 5, No Balls 5, Wides 16)
Total 142 for 9 in 35 overs
FoW (1-6, 2-6, 3-55, 4-99, 5-99, 6-99, 7-100, 8-116, 9-142)
Bowling
Prashant Bhawalkar
Sadman Islam
Iain Grant
Bhajooram Sukhdeo
Laurent Vaisman
Ramy Sharma
Sudeep Badugu
Kazi Hasan
Mark Rodmell
R
20
38
14
12
10
7
20
4
12