September 2nd, 2013 | Published in 2013, Scorecards and Match Reports
Pirates of the St Lawrence versus South Stars
Sunday 1 September 2013
By Neville Cardus (channelling through Prashant Bhawalkar) with additional commentary by Jock Strap
Photo by Mehul Vadher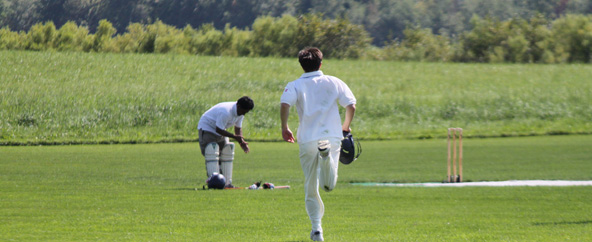 The arrival of cherubic youngster, Stephen Woodall, surely heralds a new era in Pirate history. In only his second game for the St-Hilaire side, against arch-nemesis South Stars, the Anglo-French sensation of Armenian stock, who bears a striking resemblance to Harry Potter, commandeered four wickets in impressive style. More importantly, he looked like a match winner throughout the spell and so sent the spectators into paroxysms of awe that the eventual result — a comfortable 37-run South Stars victory — was all but forgotten. His unbeaten 30 with the bat ensured that, in the minds of the non-paying public, South Stars weren't the only winners in the game.
With almost every ball, Woodall troubled the batsmen, frequently inducing hurried defensive shots and beating the bat. Four dropped catches off his bowling, two by specialist dropper Bhawalkar, and a stumping missed by the umpire cost him a Pirate bowling record.
Batting first against a bowling line-up of the highest caliber, the South Stars slogged their way to 228 with only three Pirates bowlers — Bhawalkar, Woodall, and stalwart Carter — conceding less than 4 runs an over. Three batsmen — Razi, Wasim, and Mohsin — scored 50s. A majority of these runs were scored through fours and sixes, in spite of outstanding ground fielding from the home team.
The Pirates responded with a top order collapse, and soon found themselves on the brink of annihilation at 6-58. If South Stars were licking their lips at the prospect of dismissing the home team for less than 100 two weeks running, they were in for a surprise — in the form of Julie Gauthier and Sadman Islam. Taking the bull by the horns, the pair steadied the Pirate ship to a point where victory was once again possible. In an extraordinary display against a premier-grade attack, Gauthier amassed a career-best 32 in 80 balls, while Islam racked up his best-ever 40. They added 82, driving the opposition to near panic.
Woodall and Bhawalkar were next in and, led by Woodall, the two added an unbeaten 29 runs in whirlwind fashion for the ninth wicket, bringing the eventual margin of defeat down to a meagre 37 runs. It may have been a loss, but the career-best performances of Woodall, Gauthier and Islam warmed the cockles of all.
Pirates of the St Lawrence versus South Stars
Sunday 1 September 2013
The Candy Fields, Mont-Saint-Hilaire
Match type: 40 overs per side
Weather conditions: Sweaty in cotton or acrylic
Result: South Stars won by 37 runs
South Stars Innings
Batsman
Razi
Navid
Wasim
Usman
Mohsin
Atif
Saqib
Wajid
Shuhan
How Out
ct Islam b Woodall
lbw Bhawalkar
ct Varma b Woodall
b Woodall
not out
ct Varma b Woodall
ct Varma b Vadnerka
run out (Woodall)
not out
Extras 18 (Byes 0, Leg Byes 0, No Balls 1, Wides 17)
Total 228 for 7 in 40 overs
FoW (1-17, 2-119, 3-142, 4-155, 5-155, 6-165, 7-202, 8-210)
Bowling
Prashant Bhawalkar
Matthew Legault
Dan Hogg
Sadman Islam
Stephen Woodall
John Carter
Abhishek Vadnerkar
Julie Gauthier
R
20
50
22
21
31
19
42
24
Pirates of the St Lawrence Innings
Batsman
Pratik Joshi
Mehul Vadher
Dan Hgg
Sujith Varma (c/wk)
Abhishek Vadnerkar
Julie Gauthier
Matthew Legault
Sadman Islam
Stephen Woodall
Prashant Bhawalkar
John Carter
How Out
ct Razi b Gohar
ct Navid b Atif
b Razi
lbw Atif
b Razi
ct (sub) Vadnerkar b Navid
ct (sub) Hogg b Razi
ct Mohsin b Saqib
not out
not out
DNB
R
10
7
3
0
12
32
9
40
30
5
–
B
10
13
19
1
18
80
10
47
25
5
–
Extras 43 (Byes 12, Leg Byes 0, No Balls 6, Wides 26)
Total 191 for 8 in 40 overs
FoW (1-21, 2-27, 3-27, 4-34, 5-46, 6-58, 7-140, 8-162)
Bowling
Atif
Gohar
Razi
Shuhan
Wajid
Navid
Saqib
Mohsin