September 8th, 2013 | Published in 2013, Scorecards and Match Reports | 1 Comment
Pirates of the St Lawrence versus South Stars
Saturday 7 September 2013
By Norts Porridge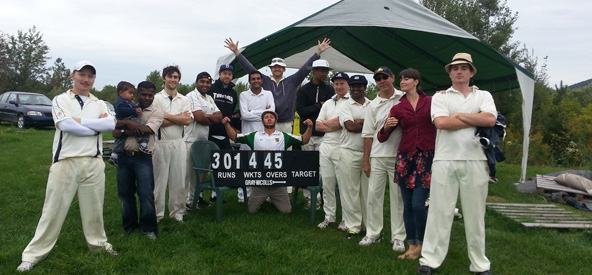 Across the vast expanse of valley sky surrounding The Candy Fields, autumnal cloud and cool winds from the northwest set the stage for a day of change, of renewal, of entropic wonder.
And of carnage.
On a day where your intrepid Pirates of the Saint Lawrence were looking to bounce back from a series of humiliating defeats, they did so — and with gusto.
Taking to bat against arch friends/rivals South Stars, the Pirates put up furious numbers. Openers "Steady Eddie" Palmer (18) and Angus "Oh-Captain-My-Captain" Bell (44) did excellent work in stifling the pace attack of Safi and Razi. But the real massacre was about to begin.
Newcomer Max "Overdrive" Newman displayed his Australian pedigree with the finest debut in Pirates history, smacking 79 runs with relative ease. Sujith "Sergeant" Varma gave brilliant support with his best-ever 89 not out. And once Sudeep "Super-Turn-Plus" Badugu relieved Newman after having finally been caught at point, the Indian's cool unbeaten 25 was enough to seal Stars' fate: Pirates had amassed a whopping 301 for 4 off 45 overs.
After samosa lunch (graciously offered by the visitors) the Pirate onslaught continued with inspired bowling from Jeremy "Pope" Patterson and Adam "Unhyphenated" Kelly Morton who, between them, contained South Stars to a mere 40 runs through 12 overs, with a valuable wicket from Patterson.
The bowling onslaught continued with a spread of wickets from Matthew "Orange" Julius, Prashant "Prash" Bhawalkar, Xavier "X-Man" Clements, followed by an inspired containment spell from Robert "Doc" Hess. But the greatest Pirate plunder came the way of Captain Bell, who annihilated the visitors with a 5-wicket haul and a spartan 13 runs off 6 overs.
South Stars did not go down without a fight, as Danish, Usman and Razi combined for nearly 70 runs, but even their noble efforts were curtailed, in part, by a spectacular leaping backward grab from Pratik "Joe-Cool" Joshi off Usman in deep cover.
Stars' last bastion of hope, Razi, was caught and bowled for the final out by Kelly Morton, and as autumnal darkness and misty rain swept over the remains of the carnage, all were left with a sense of wonder — or dismay.
Pirates of the St Lawrence versus South Stars
Saturday 7 September 2013
The Candy Fields, Mont-Saint-Hilaire
Match type: 45 overs per side (12 wickets)
Weather conditions: Darker than when wearing sunglasses
Result: Pirates won by 135 runs
Pirates of the St Lawrence Innings
Batsman
Eddie Palmer
Angus Bell (c)
Max Newman (wk)
Pratik Joshi
Sujith Varma
Sudeep Badugu
Matthew Julius
Xavier Clements
Adam Kelly Morton
Robert Hess
Prashant Bhawalkar
Jeremy Patterson
How Out
lbw Shuhan
lbw Safi
ct Safi b Nasrat
b Kumel
not out
not out
DNB
DNB
DNB
DNB
DNB
DNB
R
18
44
79
9
89
25
–
–
–
–
–
–
B
37
51
76
8
73
19
–
–
–
–
–
–
4s
2
8
13
2
11
3
–
–
–
–
–
–
6s
–
–
1
–
1
1
–
–
–
–
–
–
Extras 37 (Byes 8, Leg Byes 8, No Balls 8, Wides 13)
Total 301 for 4 in 45 overs
FoW (1-41, 2-91, 3-113, 4-226)
Bowling
Safi
Razi
Shuhan
Kumel
Danish
Nasir
Navid
Nasrat
R
71
34
53
50
26
19
12
20
South Stars Innings
Batsman
Shuhan
Danish
Usman
Nasrat (c)
Wajid
Navid M (wk)
Razi
Safi
Nasir
Nabib
Navid A
Safi
How Out
b Patterson
st Newman b Julius
ct Joshi b Bhawalkar
lbw Bhawalkar
ct Clements b Julius
ct Julius b Clements
c&b Kelly Morton
b Bell
ct Julius b Bell
b Bell
lbw Bell
ct Patterson b Bell
R
8
23
18
8
10
9
45
10
4
0
2
0
B
–
–
–
–
–
–
–
–
–
–
–
–
4s
1
2
2
1
1
–
2
1
–
–
–
–
6s
–
–
–
–
–
–
1
–
–
–
–
–
Extras 26 (Byes 5, Leg Byes 1, No Balls 1, Wides 19)
Total 166 for 12 in 39.3 overs
FoW (1-13, 2-43, 3-63, 4-80, 5-84, 6-105, 7-122, 8-137, 9-139, 10-153, 11-153, 12-166)
Bowling
Jeremy Patterson
Adam Kelly Morton
Matthew Julius
Prashant Bhawalkar
Xaxier Clements
Robert Hess
Angus Bell
Sudeep Badugu
R
21
19
33
24
14
25
13
11