September 22nd, 2013 | Published in 2013, Scorecards and Match Reports
Pirates of the St Lawrence versus West Island Tigers
Sunday 15 September 2013
Match report by Neville Cardus (channelling through Prashant Bhawalkar)
Photo by Mark Rodmell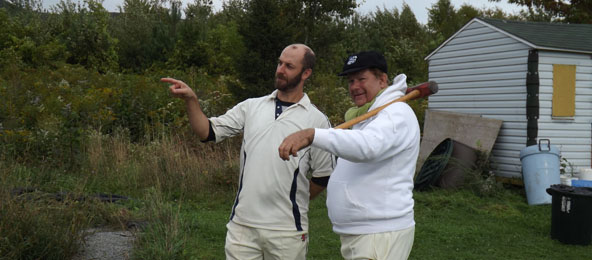 In addition to the West Island Tigers, The Candy Fields was greeted by a meteorologically-ambiguous Sunday. It is, indeed, a day that might best be described as one that combined sunshine with a bit of a nip in the air. Pirates skipper Varma sent the visitors in and was immediately rewarded by handy spells from his opening bowlers Bhawalkar and Grant. To be fair to the batsmen, the wet wicket characterized by uneven bounce with a predisposition for ankle-high skidders.
Whether it was the wicket or the skill of the opening bowlers, the stage was set for one of the finest ever spells in Pirate history. Legault, whose appearances have been sporadic this season and far below par, started his spell with a wicket off his first ball. Rana, surprised by a low inswinger, was trapped plumb in front of the wicket. Legault went on to take four more wickets in a spell that made him only the second Pirate to take more than five wickets in an innings twice. His wicket-taking pattern only illustrates the devastating nature of his spell: lbw, bowled, lbw, caught behind, bowled.
He was well-supported by the cherubic Woodall, whose two-wicket spell only illustrates the fine form he has been in this season.
After restricting the Tigers to an attainable 147 in 33.3 overs — thanks to a fine rear-end innings of 55 by Manish — the Pirates appeared to be well on their way to victory, with Joshi continuing his fine attacking form. Mixing elegance and brutality, he scored 83. The extent to which he dominated proceedings is evident in his boundary-to-singles ratio—seven fours and five sixes. His straight shots were a picture of Euclidian certainty, while his angular shots approached perfect perpendicularity.
Unfortunately, only Woodall approached the same degree of proficiency with the bat, scoring a useful 20 that included two boundaries.
In the end, tailenders Bhawalkar and Bhattacharya were faced with the required run rate of ten runs an over. While each played well within himself, the situation clearly required a batsman with more experience. The accurate West Island bowlers had little trouble ensuring a paper-thin 11-run victory for their team.
Once again this season, the Pirates managed to snatch defeat from the jaws of victory.
Pirates of the St Lawrence versus West Island Tigers
Sunday 15 September 2013
The Candy Fields, Mont-Saint-Hilaire
Match type: 35 overs per side (11 wickets)
Weather conditions: Sunny with a slight stiffening of the nipples
Result: West Island Tigers won by 11 runs
West Island Tigers Innings
Batsman
Santosh
TJ
Rana
Ashok
Hasan
Sonu
Vicky
Amritpol
Manish
Maninder
Avinah
How Out
ct Rodmell b Grant
ct Rodmell b Bhawalkar
lbw Legault
lbw Legault
b Legault
b Joshi
ct Varma b Legault
b Woodall
ct Joshi b Hasan
lbw Woodall
b Legault
R
25
14
2
4
1
26
0
0
55
4
0
Extras 14 (Byes 0, Leg Byes 0, No Balls 4, Wides 10)
Total 147 for 11 in 33.3 overs
Bowling
Iain Grant
Prashant Bhawlkar
Matthew Legault
Stephen Woodall
Kazi Hasan
Pranav Ashtaputre
Pratik Joshi
Pirates of the St Lawrence Innings
Batsman
Paddy Mahon
Pratik Joshi
Pranav Ashtaputre
Sujith Varma (c/wk)
Mark Rodmell
Kazi Hasan
Stephen Woodall
Bhujyo Bhattacharya
Matthew Legault
Iain Grant
Prashant Bhawalkar
Brian Llewellyn-ap-Dafydd
How Out
run out
ct Hassan b Amritpol
ct Vicky b Manish
b Manish
ct Sonu b TJ
b TJ
ct Avinash b Vicky
not out
lbw Vicky
b Amritpol
not out
DNB
R
1
83
3
0
5
8
20
4
0
2
5
–
B
7
94
18
1
23
26
23
5
1
3
9
–
4s
–
7
–
–
–
–
2
–
–
–
–
–
6s
–
5
–
–
–
–
–
–
–
–
–
–
Extras 5 (Byes 0, Leg Byes 1, No Balls 0, Wides 4)
Total 136 for 9 in 35 overs
FoW (1-3, 2-24, 3-25, 4-64, 5-116, 6-116, 7-123, 8-126, 9-131)
Bowling
Amritpal
Vicky
Manish
Maninder
Ashok
TJ
Santosh
Rana