September 30th, 2014 | Published in 2014, Scorecards and Match Reports
Pirates of the St Lawrence versus South Stars
Saturday 20 September 2014
by Sparky Rodmell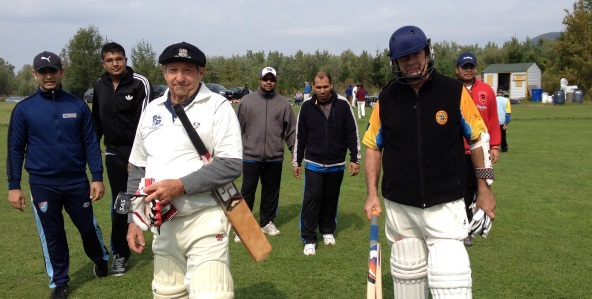 The Météo had promised us a mild-to-warm day with some cloud cover. But the weather turned out to be one of the biggest actors in the game. The morning was characterised by a bitingly cold gale that caused bails to be dispensed with and traditional cricket attire to be replaced with fleeces and hoodies. A brief and futile attempt to put the tent up was abandoned as the gusts carried the roof and those trying to hold it off in the direction of Greenland. High catches were impossible in the conditions as the ball changed direction in mid-air, with such chances being missed by yards (instead of merely being dropped in the usual way).
Some were able to take advantage of the situation. South Stars' slow bowlers were the most effective throughout the Pirates' innings: they were unfazed by the drifting ball, keeping a good line and conceding very few extras; and they used the variation in flight caused by the wind to put up an effective counter-attack against a basically good start by the Pirates' top order. Nandan did most of the damage, both physically and in terms of wickets, as he threatened Joshi's good looks by forcing a top edge that flew sickeningly into his eyebone, and bowled two of the top order with regulation-but-effective off breaks.
Joshi's 76 represented, remarkably, his seventh consecutive fifty. And some worries that the innings was stalling after his dismissal were allayed as Raiyan took the attack to the Stars' off-spinners with some bold shot selection, cutting against the spin to the jagging off-breaks and pulling in front of the stumps to the straighter balls. Pirates assembled a respectable 229, which looked like a par score in the conditions, and promised a good close contest.
And, as Stars attacked the total, again it was the slower bowling that did the damage. Bell bowled a full length to frustrate a batting order that wanted to play off the back foot. Encouraged by a couple of early wickets, he urged his team to deliver more. And straight away, Murphy obliged, with a hat-trick and triple-wicket maiden in his first over. Joshi shortly afterwards took two wickets with consecutive balls and was bemused to find Stars' incoming batsman adopting the audacious strategy of a blind swipe at the hat-trick ball, which unfortunately did not yield a wicket. (To be fair, the subsequent ball did go for six.)
Stars maintained this approach, threatening a recovery based on big hits against some loose balls. But Murphy, returning for a second spell, wrapped things up with a club record analysis of 6-17. Pirates won comfortably and took some comfort from the developments over the summer: after some appalling batting collapses earlier in the season, they had today put together an innings with two fifties, and six of the eight out batsmen gaining the respectability of double figures.
As an earlier report notes, Murphy might have thought that the previous Saturday was going to be his match, until more dramatic events intervened. This, however, was Murphy's day, assuredly so…
Pirates of the St Lawrence versus South Stars
Saturday 20 September 2014
The Candy Fields, Mont-Saint-Hilaire
Match type: 45 overs per side (11 wickets)
Result: Pirates won by 48 runs
Pirates of the St Lawrence Innings
Batsman
Angus Bell (c)
Pratik Joshi
Mark Rodmell
Darren Murphy
James Quigley
Jake Levin
Raiyan Pasha (wk)
Sudeep Badugu
Kazi Hasan
John Carter
Brian Llewellyn-ap-Dafydd
Sadman Islam
How Out
ct Nabeel b Nasir
st Saqib b Nasir
b Nandan
ct Tauseef b Nandan
b Nandan
ct Nabeel b Faraz
ct Faraz b Ehtisham
b Ehtisham
retired not out
not out
not out
DNB
R
16
76
11
21
1
3
51
25
6
4
0
–
B
43
63
23
33
4
4
48
22
8
11
2
–
4s
2
10
–
1
–
–
5
4
–
–
–
–
6s
–
3
1
–
–
–
2
–
–
–
–
–
Extras 12 (Byes 3,Leg Byes 1 No Balls 0, Wides 8)
Total 229 for 8 in 45 overs
Bowling
Ehtisham
Tauseef
Salman
Razi
Sajid
Nasir
Nandan
Faraz
Shuhan
R
22
50
17
37
21
26
32
12
7
Innings of South Stars
Batsman
Salman
Nandan
Razi
Saqib
Nabeel
Shuhan
Wajid
Sajid
Nasir
Tauseef
Faraz
Ehtisham
How Out
ct Pacha b Islam
b Murphy
b Bell
b Murphy
ct Quigley b Murphy
b Murphy
b Bell
b Joshi
ct Bell b Murphy
c&b Murphy
ct Bell b Joshi
not out
R
0
56
28
7
0
0
6
15
19
0
0
0
B
–
–
–
–
–
–
–
–
–
–
–
–
4s
–
7
3
1
–
–
1
2
3
–
–
–
6s
–
2
–
–
–
–
–
–
–
–
–
–
Extras 28 (Byes 1, Leg Byes 1, No Balls 4, Wides 10)
Total 181 all out in 41 overs
Bowling
Sadman Islam
Sudeep Badugu
John Carter
Angus Bell
Darren Murphy
Kazi Hasan
Jake Levin
Pratik Joshi
James Quigley
R
24
18
24
31
17
16
16
14
19