October 14th, 2014 | Published in 2014, Scorecards and Match Reports
Pirates of the St Lawrence versus Gujarat CC
Saturday 27 September 2014
Photos and story by Sparky Rodmell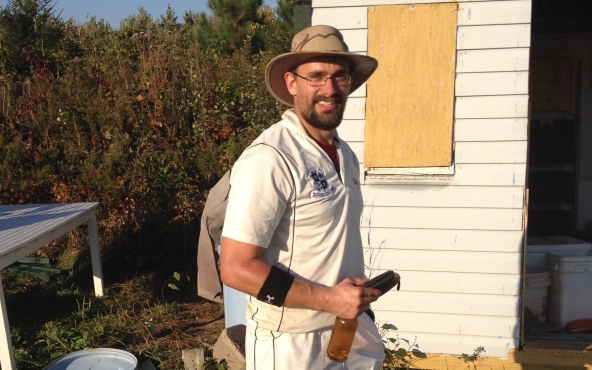 It was, quite simply, a beautiful day to be alive and be playing cricket at The Candy Fields. After two weeks of drizzle, a late blast of summer sunshine combined with a swathe of russet, orange and ochre foliage to provide an arcadian backdrop to the game. To complete the bucolic idyll, a solitary deer spent the day gambolling happily back and forth across the neighbouring field. And against this Romantic-era landscape, 85 overs of cricket yielded nearly 500 runs for 20 wickets, including a maiden century that matched the aesthetic quality of the day.
The first hour's batting was decidedly less picturesque. Gujarat CC took a first-over wicket, bowling Joshi through the gate, and the second-wicket stand advanced at barely two per over, as Bell and Rodmell had to scrap for every run against a swinging ball and disciplined line and lengths. But this rather functional resistance served a purpose: by the drinks interval the run rate, boosted by a plague of wides, had laid a promising foundation.
Coetzee responded to the opportunity with an innings that was as good to watch as it was vital to the game. Powering his way to his first hundred, he combined textbook use of front and back foot play with some thrilling unorthodoxy, including what can only be described as a 'straight pull' past the bowler for four. He scored boundaries to all parts of the ground but predominantly forward of square, as he and Malhotra maintained a 100-plus strike rates in a 90-plus stand. A late-innings flurry from Pariat and Grover helped the Pirates to 269.
After the habitually excellent lunch provided by the Gujarat chefs, the Pirates' bowling began strongly, with Pariat a yard faster in the warm dry conditions. Gujarat stayed close to the target run rate, but with wickets falling steadily, they were always chasing the game. Attacking batting from Nimesh and Jagdish threatened to steal the game in a rapid 50-run stand. But the Pirates' fielding came together, with catches sticking, deep fielders saving three by racing to cut off boundaries, and finally a stunning diving stop and run out from Bell at point. The Gujarat ship was broken.
Pirates ran in victorious by 52 runs, and both sides relaxed with beers as the warm afternoon turned to mellow evening and the setting sun complemented the rich colours of autumn. A blissful day indeed.
Pirates of the St Lawrence versus Gujarat CC
Sunday 27 September 2014
The Candy Fields, Mont-Saint-Hilaire
Match type: 45 overs per side (11 wickets)
Result: Pirates won by 52 runs
Pirates of the St Lawrence Innings
Batsman
Pratik Joshi
Angus Bell (c)
Mark Rodmell
Tertuis 'Dash' Coetzee
Sameer Malhotra (wk)
Sudeep Badugu
Jake Levin
James Quigley
Bobby Grover
Justin Pariat
Robert Hess
Brian Llewellyn-ap-Dafydd
How Out
b Rajendra
ct Nilesh b Nimesh
ct Vishal b Prashant
ct Nimesh b Jagdish
run out (Prashant)
lbw Jagdish
b Rajendra
b Jagdish
b Jagdish
not out
not out
DNB
R
0
9
14
110
32
3
1
6
12
23
3
–
B
3
28
46
94
30
7
4
13
8
20
7
–
4s
–
1
–
12
5
–
–
–
2
3
–
–
6s
–
–
–
3
–
–
–
–
–
–
–
–
Extras 56 (Byes 5, Leg Byes 4, No Balls 1, Wides 46)
Total 269 for 9 in 45 overs
FoW (1-0, 2-25, 3-69, 4-167, 5-174, 6-179, 7-202, 8-231, 9-233)
Bowling
Rajendra
Nimesh
Ashok
Pamkaj
Harish
Prashant
Ajay
Jagdish
Ravish
R
26
66
28
8
25
18
30
40
19
Gujarat CC Innings
Batsman
Nilesh (c/wk)
Mukesh
Rajendra
Harish
Ravish
Nimesh
Prashant
Jagdish
Ajay
Pankaj
Vishal
How Out
ct Malhotra b Pariat
b Pariat
b Pariat
ct Quigley b Levin
ct Pariat b Bell
ct Coetzee b Pariat
lbw Bell
run out (Bell)
st Malhotra b Bell
c&b Grover
b Grover
R
0
4
9
20
27
64
0
26
17
15
7
Extras 27 (Byes 5, Leg Byes 0, No Balls 4, Wides 18)
Total 217 for 11 in 39.3 overs
Bowling
Justin Pariat
Sudeep Badugu
Robert Hess
Jake Levin
Tertuis Coetzee
Angus Bell
Pratik Joshi
Bobby Grover