May 12th, 2013 | Published in 2013, Scorecards and Match Reports
Pirates of the St Lawrence versus South Star
Saturday 11 May 2013
By Neville Cardus (channelling through Prashant Bhawalkar)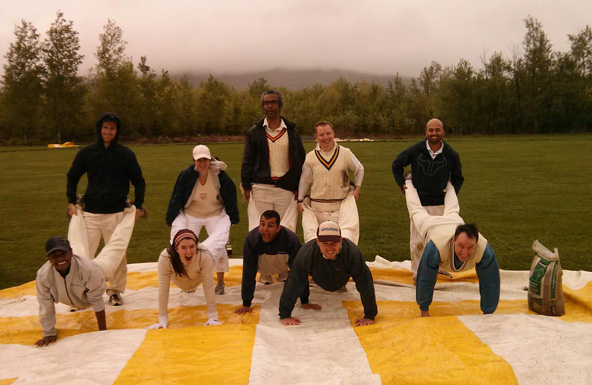 It was on a damp, windy day in the charming Riviera town of Mont-St-Hilaire that Pirates of the St Lawrence overcame challenging conditions to post a tight win over South Star. While hell was busy freezing over, and the field turned to a duck pond, the Pirate bowlers were equally busy burning holes in the talented South Star line up. Long interludes involving intoxicated huddles in random parked cars only boosted the determination of the home side.
Batting first, South Star struggled against the bowling of Bhawalkar and Islam. Bhawalkar was the first to strike, removing Salman and Navid. These early successes set the stage for a dazzling display of left-arm Chinaman brilliance by Vadnerkar. In his second match for the Pirates, the Kiwi showed the same remarkable control and discipline that had been evident on his first outing, announcing his candidacy for the Pirates bowler of the year award.
Equally brilliant was Gauthier, making a comeback after a period of three years. With great control, she managed to bowl a five-over spell that cost only 10 runs and garnered her the wicket of Ramzan. The final nail in the South Star coffin was hammered by the ever-brilliant Robinson, who took 2-4 in three overs with an ease that made onlookers gape.
The Pirates began hesitantly, amidst conditions that were decidedly swing-friendly on a pitch that had flooded during the lunch break. An hour of digging holes and ferrying water from the wicket to the ditch via tractor and trailer had saved play. For a while, Bell and Robinson, aided by wides, appeared to be leading them to a comfortable victory. Robinson, in particular, was batting with consummate ease, stroking his way through the gaps. Bell, on the other hand, was displaying his characteristic pugnacity at the crease. As wickets began to tumble at the other end, he stood like Horatius defying the odds.
Eventually, it was the ever-reliable Horne who led the home team to their second win of the season. Though the Stars never looked out of the hunt, the New Zealander combined his experience and talent to push through the gaps. Well supported by Mulligan and Islam, whose scores do not do their contributions justice, Horne was to the Pirates what Dravid has been to India, all the more impressive after a wicketkeeping session in the mud.
The Pirates celebrated their victory by posing wheelbarrow style, an event that attracted the censure of the MCC as well as the House of Lords.
Pirates of the St Lawrence versus South Star
Saturday 11 May 2013
The Candy Fields, Mont-Saint-Hilaire
Match type: 45 overs per side (11 wickets)
Weather conditions: Poseidon Adventure
Result: Pirates of the St Lawrence won by 5 wickets
South Star Innings
Batsman
Salman
Sikander
Navid
Danish
Kamal
Nasrat
Ramzan
Razi
Shohan
Fahad (c)
Safi
Sajid (wk)
How Out
b Bhawalkar
lbw Vadnerkar
lbw Bhawalkar
ct Horne b Vadnerkar
st Horne b Vadnerkar
ct Islam b Mulligan
ct Varma b Gauthier
not out
run out (Robinson)
b Robinson
b Robinson
ct Horne b Vadnerkar
R
7
14
14
1
0
15
4
12
1
13
8
3
B
18
31
15
10
4
16
21
28
8
21
12
4
4s
1
–
1
–
–
–
–
–
–
–
–
–
6s
–
–
1
–
–
2
–
–
–
1
–
–
Extras 23 (Byes 2, Leg Byes 2, No Balls 0, Wides 19)
Total 115 for 11 in 38.3 overs
FoW (1-14, 2-32, 3-43, 4-43, 5-64, 6-65, 7-69, 8-89, 9-102, 10-103, 11-115)
Bowling
Prashant Bhawalkar
Sadman Islam
Samuel Mulligan
Abhishek Vadnerkar
Julie Gauthier
Xavier Clements
Sabrina Arciero
Daniel Robinson
Angus Bell
Sujith Varma
R
22
14
18
12
10
11
9
4
9
4
Pirates of the St Lawrence Innings
Batsman
Sujith Varma
Daniel Robinson
Angus Bell (c)
Julie Gauthier
Samuel Mulligan
Richard Horne (wk)
Sadman Islam
Abhishek Vadnerkar
Sabrina Arciero
Xavier Clements
Prashant Bhawalkar
How Out
b Safi
ct Sajid b Nasrat
run out (Fahad)
ct Razi b Nasrat
b Razi
not out
lbw Razi
not out
DNB
DNB
DNB
R
2
23
16
0
10
21
9
2
–
–
–
B
4
20
71
2
36
34
25
6
–
–
–
Extras 33 (Byes 5, Leg Byes 0, No Balls 0, Wides 28)
Total 116 for 6 in 33 overs
FoW (1-13, 2-39, 3-40, 4-70, 5-83, 6-101)
Bowling
Fahad
Safi
Sikander
Salman
Nasrat
Razi
Shohan
Kamal