May 12th, 2013 | Published in 2013, Scorecards and Match Reports | 3 Comments
Pirates of the St Lawrence versus Bengal United
Sunday 12 May 2013
By Vish Takes a Swish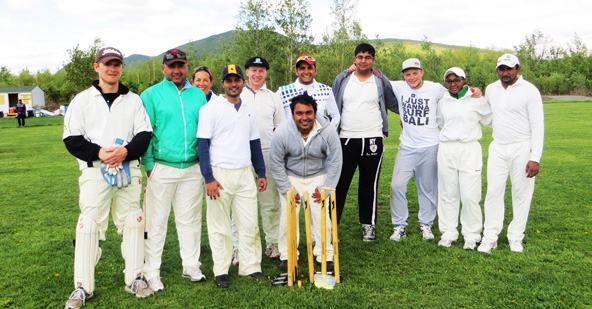 A comprehensive 7-wicket win for Bengal United set their cricket season in the right tone despite losing closely to Pirates last Sunday. With a disciplined bowling effort, especially from Mahfuz who took 5-16, and astute bowling changes aided by the weather, the Pirates were restricted to a cheap 117 from their 35 overs. And in response to the paltry total, Rakib and Shazad chased it comfortably with brisk 40s.
As the day started, it was definitely not a perfect scene for cricket, with dark clouds looming, drizzle and chill in the air. By 11 am the rain-Gods went for a sleep and the sky started to clear. The Pirates were asked to bat first by the Bengal skipper, who was hoping to take advantage of conditions conducive to seam bowling.
Steady Eddie and Joshi walked into open the innings for Pirates. Mahfuz looked in superb rhythm, bowling line-length with ferocious pace. He set up the first wicket for United as he rushed Palmer into a short-pitch delivery which hit his gloves and ballooned into Main's hands at second slip. It was touch-and-go for Pirates from the outset as three more wickets fell in quick succession to Main and Mahfuz in the form of Curtis and du Cilliers – both making their debuts – and Bharmauria. The Pirates soon found themselves 10-4.
Marie Aime'e – former wicketkeeper of Kenya Women, now of Canada – walked into bat and as a partnership seemed to flourish between her and Joshi, the latter lost his cool and heaved one straight off Rajib into the hands of long-on. Reduced to 28-5, a Pirate slaughtering didn't seem distant at this stage.
But Pirate stand-in skipper Varma walked into bat with a different plan and, together with the immovable Aime'e, steadied the sinking-Pirate-ship. Varma stroked a well-composed 37 including five boundaries.
Just as it looked like the Pirates would reach a competitive score around 150-160, Mahfuz returned to rip through the tail-end, bagging five scalps in 7 overs. Aime'e finished her hard-fought innings of 15 after facing 90 balls, and a late-innings cameo from Shah ensured the Pirates posted 117.
By now the skies had cleared, the outfield had dried and conditions were batting friendly. Munawar and Shah opened up the bowling attack for the Pirates. Everything seemed to go United's way until Dibarkar mishit a full toss off Munawar right into Shah at short fine leg. But the Pirates had spilled three decent catching opportunities by then.
Bowling changes were rung as the Pirates looked for wickets, but nothing seemed to work. Runs continued to flow with missed opportunities for the home side. Then came the man with the golden arm (du Cilliers), playing his first match for Pirates, as Shazad, on 41, sliced one to Palmer at point. Rakib was then run-out by a Barret / du Cilliers combination. Victory was just a few steps away for the Bengals, but to salvage some pride, Varma opened up Rajid as he tried a back foot cover drive and the ball rattled the stumps.
In the end, the Dhaka boys chased a comfortable victory with 7 wickets to spare. Despite their loss to the Tigers, the fighting spirit the Pirates showed augurs well for upcoming games. And after all, it is just the beginning of the season.
Pirates of the St Lawrence versus Bengal United
Sunday 12 May 2013
The Candy Fields, Mont-Saint-Hilaire
Match type: 35 overs per side (11 wickets)
Weather conditions: A test of the tent frame
Result: Bengal United won by 7 wickets
Pirates of the St Lawrence Innings
Batsman
Pratik Joshi
Eddie Palmer
Raewyn Curtis
Duvan du Cilliers
Vishal Bharmauria
Marie Aime'e
Sato Panday
Sujith Varma (c)
Andrew Barrett (wk)
Manit Shah
Ehtisham Munawar
How Out
ct Mughis b Rajib
ct Main b Mahfuz
b Main
b Main
b Mahfuz
ct Istiak b Nandan
ct Biplob b Adi
b Mahfuz
ct Istiak b Mahfuz
ct Biplob b Mahfuz
not out
R
15
0
0
0
4
15
0
37
7
11
0
B
27
5
4
2
5
90
1
52
15
9
0
Extras 31 (Byes 4, Leg Byes 5, No Balls 0, Wides 22)
Total 117 for 10 in 35 overs
FoW (1-2, 2-4, 3-4, 4-10, 5-28, 6-28, 7-93, 8-99, 9-117, 10-117)
Bowling
Mahfuz
Main
Rajib
Adi
Mizan
Nandan
Bengal United Innings
Batsman
Rakib
Dibarkar (wk)
Main
Shazad
Rajib
Nandan
Biplob
How Out
run out (Barrett / du Cilliers)
ct Shah b Munawar
retired not out
ct Palmer b du Cilliers
b Varma
not out
not out
Extras 11 (Byes 2, Leg Byes 0, No Balls 1, Wides 8)
Total 118 for 4 in 17.3 overs
Bowling
Ehtisham Munawar
Manit Shah
Marie Aime'e
Vishal Bharmauria
Pratik Joshi
Duvan du Cilliers
Sujith Varma