May 19th, 2013 | Published in 2013, Scorecards and Match Reports | 1 Comment
Pirates of the St Lawrence versus Brossard Warriors
Saturday 18 May 2013
By Neville Cardus (channelling through Prashant Bhawalkar)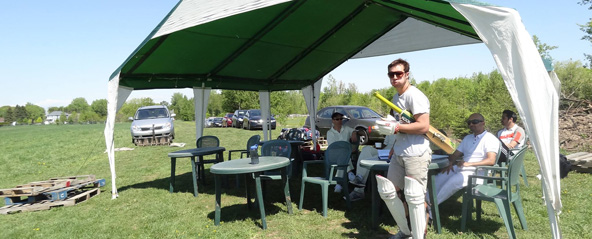 On a day that constituted a rare break from the post-winter chill that has gripped greater Montreal under its icy tentacles, Pirates of the St Lawrence were effectively and efficiently butchered by Brossard Warriors. The home team managed a dismally low 105 all out. Aided by decidedly bowler-friendly conditions, the Warriors demonstrated discipline and were, therefore, able to dismiss their opponents cheaply. Amongst the Pirates, only Julius (30) and Shah (20) reached double figures.
The pick of the Warriors bowlers was Vipul. His destructive spell of 4/19 was ably supported by Ravish, Arif, Jagdeep, and Gohar.
The Pirates bowlers began bravely, but began to buckle under pressure, bowling short. In addition, the Warriors umpires were especially strict when it came to signalling wides. An early breakthrough by Bhawalkar allowed the Pirates to dream of an improbable victory. However, the Warriors were able to recover and, once again, assume the ascendancy.
Hess took the second wicket, but by then the visitors were well and truly in the driver's seat. A collapse of 8 wickets for less than 36 runs, while possible, rarely occurs in even the most social of cricket matches. Still, the Pirates continued to fight. When Gohar was castled by skipper Robinson, the Pirates could not even afford the luxury of hope. The score read 100 for 3 at this point and only 6 runs were required for an emphatic victory.
While the scorecard suggests otherwise, the match demonstrated that the Pirates have a great deal of raw talent on offer this season. Hopefully with a little more practice, the home team will shake off the rust.
Pirates of the St Lawrence versus Brossard Warriors
Saturday 18 May 2013
The Candy Fields, Mont-Saint-Hilaire
Match type: 45 overs per side (11 wickets)
Weather conditions: Alarmingly dry
Result: Warriors won by 8 wickets
Pirates of the St Lawrence Innings
Batsman
Sudeep Badugu
Matthew Julius
Daniel Robinson (c)
Thiéry Milot
Andrew Barrett (wk)
Manit Shah
Reza Farishta
Abhishek Vadnerkar
Sato Panday
Robert Hess
Xavier Clements
Prashant Bhawalkar
How Out
lbw Bohar
b Vipul
b Gohar
ct ? b Vipul
b Ravish
not out
lbw Vipul
b Vipul
b Arif
b Ravish
b Arif
b Jagdeep
R
4
30
2
4
0
20
0
0
9
0
2
1
B
18
73
12
12
3
45
1
3
9
3
7
4
4s
–
3
–
1
–
–
–
–
2
–
–
–
6s
–
–
–
–
–
1
–
–
–
–
–
–
Extras 33 (Byes 1, Leg Byes 1, No Balls 5, Wides 26)
Total 105 for 11 in 33.4 overs
FoW (1-18, 2-30, 3-47, 4-48, 5-65, 6-65, 7-66, 8-69, 9-83, 10-96, 11-105)
Bowling
Hari
Gohar
Vipul
Ravish
Jagdeep
Arif
Virmal
Brossard Warriors Innings
Batsman
Jagdeep
Ravish
Gohar
Nirmal
Kawal
Vipul
Arif
Aman
Rajesh
Sameer (c/wk)
Hari
How Out
lbw Bhawalkar
lbw Hess
b Robinson
not out
not out
DNB
DNB
DNB
DNB
DNB
DNB
R
7
31
19
16
1
–
–
–
–
–
–
B
16
42
19
16
2
–
–
–
–
–
–
Extras 32 (Byes 3, Leg Byes 1, No Balls 2, Wides 26)
Total 106 for 3 in 15.4 overs
FoW (1-25, 2-69, 3-100)
Bowling
Prashant Bhawalkar
Reza Farishta
Robert Hess
Abhishek Vadnerkar
Daniel Robinson